Our expert evaluators can help you get an accurate estimate for your cars value, FAST!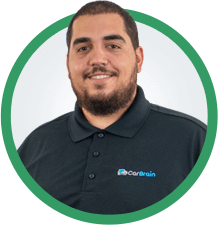 Need answers? Get FREE advice from our client care experts NOW!
Frequently Asked Questions
Will you buy my car even if I have problems with my catalytic converter?
Catalytic converter replacement isn't cheap. For most vehicles, the average cost for repair is between $945 and $2475 including parts and labor. That might be close to your car's value or more! You have an alternative to outrageous catalytic converter prices. We'll give you an offer for your car as-is! Submit your online request for an offer for an offer today.
How do I get a quote for my vehicle?
The process is simple. Go to any page on our website click "Get an Offer." For most cars, you'll receive a guaranteed instant online offer. Or, we may need a few more details about your car, and you will receive a call from one of our car buyers shortly after you submit the form. They'll give you your offer over the phone and email it to you.
Do you serve my area?
CarBrain buys and picks up your damaged vehicle from virtually everywhere in the continental United States. Click here to visit our "Areas Served" page to verify we service your ZIP Code.
How does CarBrain decide the value of my vehicle?
CarBrain takes into account a variety of factors when making you an offer for your vehicle. For example, your location, the wholesale value of your car pre-accident, the extent of damage or mechanical and electrical problems, the current market demand for your vehicle and its parts, its make, model, mileage and age all play a role of deciding the value.
For example, some cars, like a 20-year-old sedan that doesn't start or run, won't get the same offer as others, like a low-mileage two-year-old sports car with collision damage. Some vehicles fall in-between, like a high-mileage ten-year-old SUV with electrical problems.
There are no "book" values for damaged or salvage cars, but at CarBrain, we have over 30 years of experience in buying less-than-perfect vehicles. We strive to provide a fair offer to every customer.
What costs will I be responsible for? Are there any charges for CarBrain?
CarBrain is a free service. There are no charges for evaluations and offers. If you sell a car with CarBrain, we pay for pick up and towing. We have no hidden costs. When you sell your car to CarBrain, we pay you, not the other way around.
You are responsible for any storage fees or repair expenses incurred before selling the vehicle to CarBrain.