How Can I Get a Cash for Junk Cars?
Enter Vehicle Details
The first step is to fill out our easy form with up to date information on your vehicle. The more details you provide, the easier the process will be to get an accurate offer.
Accept Your Offer
After you submit the form, we'll take a look at what you've told us and give you an offer. You have seven days to decide if you like the offer or not. If you do, our associate buyers will help you schedule your FREE pickup.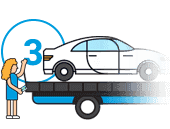 Get Paid!
The final step is to wait for the driver to arrive! Just make sure you have the car keys and vehicle title ready. Once the driver comes, you'll get your check on the spot. The driver will tow away your car. And you're done!
Junk Cars That CarBrain Has Purchased In The Past
Getting Cash For Your Car
If you have a clunker that's been sitting on a driveway for a while, you might have thought once or twice about selling it for cash. Maybe you thought the process would be too difficult, or maybe you were worried you'd end up paying for the cost of towing it. However, the longer your vehicle sits there, the lower its value becomes — which means now is the best time to sell it for cash.
Even if it doesn't run, your vehicle is worth money. The parts inside that still work can be removed and resold to individuals looking for replacement parts. The parts that don't still work probably have some valuable components that can be harvested, melted down and reused in other products.
As for the vehicle frame? Well, the aluminum used to make your vehicle can always be recycled to reduce the need to produce more metal. Selling your junk car, it turns out, is also an environmentally friendly thing to do.
Getting cash for your vehicle doesn't have to be a complicated process if you know what to do. Rather than Googling junkyards in your area or flipping through the phonebook trying to figure out who will pay you to take your vehicle, you can always use a reputable business like CarBrain. We make the process easy and convenient — and we can do it all online.
Are You Getting Rid Of Your Junk Car? Obtain A Quote Now.
Receiving your fair market appraisal necessitates nothing more than listing basic details about the condition of your car. It takes just a couple of seconds! We will come to you to take your car for FREE wherever you are, across the nation.
Who Pays Cash For Cars?
Lots of businesses are interested in paying you for your vehicle, despite what you may think about its worth. From junkyards to chop shops, chances are there are several locations near you willing to make an offer on your car and buy it from you.
However, when looking at locations that buy junk cars, there's a few things you need to keep in mind:
Is the business paying a fair market price for your vehicle? Some places will undervalue your vehicle, which means you won't be paid what it's really worth.
Is towing included for free? This is especially relevant when you're selling a vehicle that doesn't run, since towing is required to sell the car. Some places will require you to transport the vehicle yourself, which means you're on the hook for towing the car. Others will offer to tow your vehicle, but they'll charge you for it. Towing costs add up fast — it's worthwhile to look for a place that includes it for free.
Are there any hidden fees or costs? If there are any fees, you could be losing out on money.
Is the offer guaranteed? Some businesses will play a bait-and-switch game, where they offer a more generous quote on the phone than they're actually willing to pay in person. Once you get the vehicle to the shop, they hope you'll just accept the lower offer to be rid of the headache.
If you aren't keeping the above in mind when shopping around for quotes, you could be leaving money on the table. It's worth your time to look for a place that offers the best deal, with towing and guaranteed offers included. Luckily, you don't have to look far to find that.
Can You Get Cash For Cars Online?
Although you can try to sell your junk car for cash the standard way — by contacting local businesses by phone — that can be time-consuming, and besides, it's the 21st century. Shouldn't you be able to use a 21st-century method to sell your car?
Yes, you absolutely can! At CarBrain, we had the same thought. We've digitized the entire process of selling your junk car so you can sell your car online.
You can get an offer for your car online through our website and schedule a free, fast pickup. Our service means you can complete the entire process from the comfort of your home. We'll walk you through the entire process, and you can contact our associate buyers by phone, text, email or chat.
Sell Your Car For Cash With CarBrain
Get an offer for your junk car in just 90 seconds with CarBrain's lightning-fast, easy and convenient online service. Answer a few questions about your vehicle and we'll present you with the highest offer we find in your area from a partner near you. Free towing and title transfer is always included, and our offers are guaranteed for seven days.
Got any questions about selling your car? A dedicated associate buyer will be available to answer any questions you have, from how to obtain a duplicate title to when you should expect a tow truck driver at your door. We're easily accessible and eager to help you complete the process of selling your junk car.
There are no fees, no haggling and no fuss. We help you get paid for your junk car fast. Pickup is guaranteed in 24-48 business hours.
Get an offer from CarBrain for your vehicle and get cash for your car faster.
---
Frequently Asked Questions
Who Pays Cash For Junk Cars?
Lots of buyers are willing to pay you cash for your junk car. Junkyards, scrap yards, salvage yards, pick n pulls — you have numerous options. However, trying to find the right buyer by calling up yards one by one can be a hassle.
There's a faster way: get a quote from CarBrain. We'll show you the highest offer from partners in your area, with free towing and title transfer always included. Our offers include pickup in 24-48 business hours, and on-the-spot payment, guaranteed.
How Much Cash Can I Get For My Car?
The amount you can get for your vehicle depends on a variety of factors, including:
Its year, make and model

Its current condition

Your location
Your vehicle would be worth little more than its weight in scrap metal — in which case, you'd get roughly $200-$400 for it, depending on its size — or it could be worth thousands of dollars.
The best way to find out how much cash you can get for your car is to request an offer from CarBrain. We'll generate a quote in just 90 seconds, with free and fast pickups always included.
Is 'Cash For Cars' Legit?
If you find the right business, there is a legitimate way to get cash for cars. But not every "cash for cars" sign you see on the street will lead you to a legitimate business, which is why it's important to do your research.
At CarBrain, we've been in business for over a decade. We have countless five-star reviews, an A+ rating with the BBB and expert associate buyers who can walk you through the process and help you sell your car without the fuss. Get an offer today and discover a legitimate cash for cars process that can help you get paid faster.