How To Sell Your Broken Car With CarBrain
Describe Your Car
By giving us information about your car, we can generate an instant quote for its actual cash value. Pictures of the car and its Vehicle Identification Number will help us create an accurate offer.
Review Your Offer
After submitting the form, we'll create a quote for your vehicle and send it back to you. If you like our offer, your assigned associate buyer can help you schedule your FREE pickup and payment time.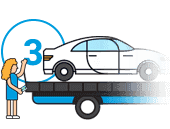 Collect Your Check
Finally, wait for the tow truck driver to arrive. Make sure you have the car keys and vehicle title handy. When the driver arrives, hand over the keys, sign the title, and collect your check!
Junk Cars That CarBrain Has Purchased In The Past
What Are My Options For My Broken Car?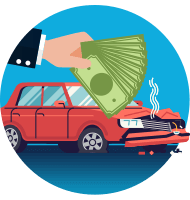 Is your vehicle undrivable after an accident? Did hail smash through your windshield? Is your engine dying on you?
You might think there's nothing you can do with a broken car, but it still has a lot to offer. CarBrain can generate a quote for your vehicle in under 90 seconds and then pay you for it in under two business days. Don't waste your time comparing expensive quotes from local mechanics — sell your vehicle to us!
We make the process fast, easy, and convenient. You can complete everything from the comfort of your own home — no pants required. CarBrain values creating a client-first experience, and we're dedicated to helping you get the best price for your car without the fuss.
Want to learn more? Feel free to call us at 877.877.7911 to get your questions answered. Learn how we price our vehicles, how our business works, and what you can get for your broken car today.
Are You Getting Rid Of Your Scrap Car? Obtain A Quote Now.
Receiving your fair market appraisal necessitates nothing more than listing basic details about the condition of your car. It takes just a couple of seconds! We will come to you to take your car for FREE wherever you are, across the nation.
Fixing vs. Selling A Broken Car
If you have a broken car, it can be tough to decide when it's worth fixing and when to sell it instead. If the damage looks minor, you might be inclined to take it to a mechanic instead. However, selling might be the right choice for your broken car.

Small problems in your car can be repaired with a few hours and a hundred dollars. If the damage to your car is minor, there's probably no need to sell it.

On the other hand, it's a good idea to think about selling your car when the cost of repairing it approaches or exceeds the car's actual value. For instance, if your car's current market value is $3,000 and the cost of fixing it is $4,000, don't waste your time looking for a mechanic — start looking for a buyer instead.

In some cases, even if the damage is minor, it might still make sense to sell it instead. For instance, if you have an older vehicle that's developing problems more frequently, you might need to think twice before pulling out your wallet for another repair job. How much have you spent fixing up the car in recent years, and how much do you think you'll spend going forward?

Once you realize your repair bills are adding up, it's a good idea to get rid of your car and get a replacement. Small problems can add up fast when they pop up frequently.
How Can I Sell My Broken Car?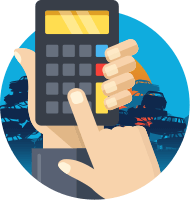 If you want to sell your broken car, you need to find out its actual cash value. Unfortunately, the Kelley Blue Book will not help you here — the value of a well-functioning car is different from a broken car. Instead, you'll need to learn what you can get for your vehicle as-is.
The best way to sell your car is to contact junk car buyers or dealerships in your area to compare quotes. Keep in mind that you should always ask about fees and any additional charges. You don't want to pay extra money to get rid of your car — you should be able to profit from selling it, not pay someone to take it.
CarBrain specializes in buying damaged and broken cars, and we can help you find out the value of your vehicle in 90 seconds. We take all factors into account to generate a top-dollar price for your vehicle, and include free towing and title transfer with our offer. There are never any fees, haggling, or fuss.
How Much Can I Get If I Sell My Broken Car?
The value of your broken car depends on the extent of the damage it has, its year, make, model, mileage, location, and more. If it's not severely damaged, an experienced buyer can repair it in a specialized shop. In many cases, however, the parts may be removed so that they can be reused in other vehicles.
The value of your car, therefore, depends on the condition of the parts in the vehicle and local market demand. Certain vehicles' parts may be more common in one part of the country and virtually unneeded in other parts. Your broken car may fetch anywhere from $1,000 to $10,000 or more, depending on its current condition and other factors.
Why Should I Sell To CarBrain?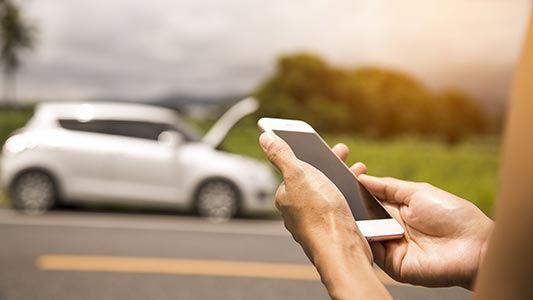 CarBrain is the market for less-than-perfect cars. With over a decade of experience buying damaged vehicles, we know how to determine a fair market offer for your car. It takes less than 90 seconds to get a quote, and our offers are guaranteed when you submit photos and your vehicle's VIN.
CarBrain offers are good for seven days, so you have time to think it over. There's never an obligation when you get a quote from us, which means there are no fees or charges for choosing not to sell to us. However, we bet you will.
Our customer service team is ready to make the process quick and simple for you. Our offers always include FREE towing and FREE title transfer. We can help you sell your car and get paid in under 48 business hours. CarBrain is the modern, safe, and easy way to sell your broken car for a fair price.
The CarBrain Advantage
At CarBrain, we know you don't have time for scammers, lowballers, and bad businesses. We believe that selling your unwanted or broken vehicle should be easy, not stressful. Our goal is to provide you with a smooth, hassle-free experience from beginning to end.
With over 13 years of experience in the industry, we know how to determine your car's actual cash value, and we can do it fast. Our super-smart price engine can quickly generate a cash offer for your car based on local market rates and the information you provide. You'll never be lowballed when you use our service.
Our speedy system can create an offer for you in just 90 seconds. If you like the quote, we can pick up your car in just two business days — for FREE! There are never any fees when you use our service.
We also believe in honesty, transparency, and reliability. Our professional associate buyers can answer any questions you have about the CarBrain experience and process. If you need any help with obtaining a duplicate title, transferring ownership of the vehicle, or scheduling your free pickup, we're just a phone call away (or a text, or an email, or an IM — we're flexible).
---
How To Sell A Car To CarBrain

Getting an offer from CarBrain is as easy as 1-2-3! All you have to do is:

Tell us about your car! Describe it in detail. If possible, make sure to include close up photos of the car as well as the VIN. This lets us properly evaluate any damage to your vehicle and learn more about its history. The more accurate our offer, the smoother the entire process will go.

Check out the offer we give you! Once you submit the form, we can give you an offer in 90 seconds in most cases. In a few instances, our associate buyers will need up to an hour to evaluate your car. They'll call you and email you with the offer. Look it over — you have seven days to decide. If you like the price, we can help you schedule your free pickup at a time that works for you.

Wait for your check to arrive! The tow truck driver will give you a window of time that they'll arrive. All you need to complete the sale is the car's keys and the title of ownership. When the driver arrives, sign the title over and collect your check on the spot. They'll tow the car away, and you're finished!

CarBrain's associate buyers are ready to walk you through the process if you have any questions whatsoever. It's simple to get a top-dollar offer from CarBrain, so what are you waiting for?
Types Of Cars CarBrain Will Buy
At CarBrain, we specialize in buying all kinds of less-than-perfect cars in any condition. That includes the following:
Scrap cars

Salvage cars

Rebuilt cars

Non-running vehicles

Old cars

Cars with blown motors

Cars with mechanical issues

Cars with body damage

Wrecked cars

Totaled cars
Ready to sell your broken car for a top-dollar offer? Reach out to CarBrain to get started now!
Where Can I Sell My Broken Car?
There are many different places to sell broken cars, depending on your goals and timeline. For instance, you can sell your car:
To a junkyard or scrap yard

To a dealership

To a private individual
Selling to a junkyard or scrapyard is an easy way to sell your car fast. You'll generally get the car's scrap metal value as payment. Make sure that a junkyard operates in your area to avoid towing fees.
Trading your broken car into a dealership may help you get a new car faster. However, dealerships will often give you less than junkyards will for your car since they do not specialize in recycling vehicles. Additionally, you will be limited to purchasing a car from their inventory.
In many cases, the best way to sell your car for as much as possible is to try to find a private buyer. However, your success will depend on your location as well as the make and model of your vehicle. Some popular cars can be sold for higher prices, even damaged, compared to less in-demand models.
---
Broken Car — Frequently Asked Questions
Is It Legal To Sell A Broken Car?
Yes. If you have a run-down, damaged, or broken vehicle, you can sell it for cash. There are no laws preventing you from getting paid for your damaged vehicle.
However, when you sell the car you should be honest about its condition. Do not conceal any damage to the vehicle when talking to potential buyers. Disclose the car's odometer count, the condition of all important parts, whether it runs, and its accident history.
My Car Doesn't Run. Will I Have To Pay For Towing?
No. CarBrain offers complimentary towing with all our offers, no matter where you're located nationwide. You never have to pay any fees of any kind, including towing fees or title transfer fees.
What Do I Need To Sell You My Car?
To complete the sale, you will need a certified copy of the vehicle's title in most cases. You must sign over the title appropriately before completing the sale. Our associate buyers can guide you through the process of signing the title in your state.
If you lost your title, we can also help you figure out how to get a duplicate title. Learn more about title requirements with the CarBrain Title Resource Page for your state.
My Car Is Missing Parts. Will You Still Buy It?
It depends. CarBrain can make an offer on many different vehicles, including cars missing some parts. However, if you're missing any of the following, we can't buy the car: the engine, the transmission, more than two car wheels.
I Owe Money On My Car. Can You Still Buy It From Me?
It depends. We can only buy a car with a lien on it if our offer exceeds the debt remaining on the lien. For instance, if you owe $4,500 on your car but we can offer $5,000 for it, we can complete the sale!
However, if you owe $4,500 on your car but we've determined it's only worth $2,000, we can't go ahead with the offer. Our associate buyers can help you learn what options you have for selling your car in such instances.