What Is A Scrap Car?
A scrap car is any vehicle that is old, damaged, or that has reached the end of its lifetime. Most scrap cars possess high-mileage and structural/mechanical damage accumulated over a 12-20 year time period.
At this point, these cars are only worth the materials that they're made of. Some older cars, due to their low mileage and components, may hold a higher value than a newer, more used car. Take a look at our instant value calculator and see what your scrap car is worth near you.
If your vehicle's glory years are in the past, continue reading and find out how to get the most value from selling your car for scrap conveniently.
How To Sell A Car For Scrap
When deciding how to sell a car for scrap, things to keep in mind are the value of your car as scrap as well as who buys scrap cars near you. Answering these questions will help you make the correct decision in maximizing your profits.
Scrap Car Value
A scrap car's value may vary based upon the current price of scrap metal. The metals that make up most modern vehicles are steel, aluminum, and iron. The average value of a scrap car is between $150-$300 for mid-sized vehicles.
Scrap yards and junkyards determine their value by their weight in tons multiplied by the current value of scrap metals.
Scrap Metal Price/Ton x Car Weight (Tons) = SCvalue
While scrap car value is usually determined by weight, parting out your car is a method of generating more revenue from the scrap. There are several components within your vehicle that can generate several hundred dollars when sold!
Scrap Car Buyers
There are several ways to offload a scrap car. Each of them has their own benefits and drawbacks for selling your scrap vehicle:
Junkyards — When looking for places that buy scrap cars near you, local junkyards are often the first choice.
They purchase vehicles in any condition quickly, but they make their profit by buying low and reselling the usable parts.
Dealerships — Any dealership that accepts cars "as is" will purchase your junk car. However, dealerships usually won't give cash for scrap cars.
The money offered is likely credit to be applied to buying another vehicle from them. Additionally, they specialize in roadworthy cars, so a car that's just "scrap" is likely to get a low offer.
Private Buyers — Private buyers aren't restricted with pricing; if your model is popular, someone will want to buy it.
Finding that person, however, can be difficult. Vetting serious candidates and haggling are the most common obstacles to selling privately.
Part Buyers — Selling individual components of your scrap car is a viable option to make money. There are plenty of people looking for parts, especially if they're in good condition or off a rare model.
However, you'll need the knowledge and space to remove these parts without damaging them and store them until they're purchased. You'll likely have to deal with hagglers and wishy-washy buyers as well.
Do You Get Money For Scrapping A Car?
You're most likely to get around $200 for your scrap car (assuming your car weighs 1.3 tons). If your vehicle is in good condition you may get more money by removing its individual components and selling them to prospective buyers. Some factors that impact scrap values are:
Year/Make/Model - A vehicle in higher demand (newer cars or particularly popular make and models, for instance) will get a larger payout than vehicles that are in less demand.

Newer cars are more likely to have reusable components that can net sellers a significant profit..

Location - The scrap yard that purchases your vehicle will transport it somewhere else for processing. Should that processing plant be a long way away, the scrap yard will reduce your payout based on the cost of transport.

Vehicle's Age - Old cars experience a sharp depreciation of their value. The newer vehicles will have working components that can be sold at a higher price and net higher profit.
How Can I Get Cash For My Scrap Car?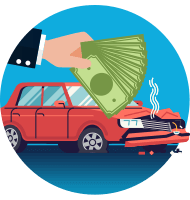 How long has that scrap car been sitting under a tarp out on your driveway? Its last drive was half a decade ago, and you know you don't want to pay a penny to deal with it. Here's some good news: you don't have to.
CarBrain is the solution you've been waiting for. We specialize in buying damaged and junk cars. Your scrap car is gold to us. We'll make an actual cash value offer on it, pay you in under 48 business hours and pick up your scrap car for FREE.
Our expert evaluators can help you get an accurate estimate for your cars value, FAST!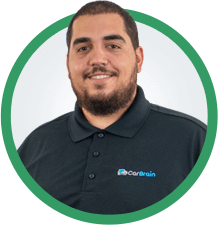 Our comprehensive service is reliable, easy to use, and efficient. You can get an instant offer for your vehicle, schedule your free pickup, and pay you on the spot when we get your car. It couldn't be more convenient.
Got any questions? Feel free to give us a call at 866.443.8530. We'll be happy to answer your questions and tell you more about what your scrap car is worth.
Trying To Sell Your Scrap Car? Get A Quote Now.
Receiving your fair market appraisal necessitates nothing more than listing basic details about the condition of your car. It takes just a couple of seconds! We will come to you to take your car for FREE wherever you are, across the nation.
I Have A Scrap Car — What Can I Do With It?
If your car is dead in your driveway, it's time to get rid of it. If you have an old car that no longer runs or is too worn down to repair, you can sell it for scrap.

There are many different companies that will take your car and recycle it for parts or melt down the metal to be reused in other industries. This is an efficient way to keep junk cars out of landfills and get paid for a vehicle you no longer want.

But here's a secret and your local scrap yards don't want you to know: you don't have to waste time calling around all your local junkyards trying to get offers. CarBrain can help you get a fair market offer for your scrap car and ensure that it's properly recycled.

Our service lets you get an offer for your car in 90 seconds. We'll quickly compare prices in your area to figure out what your car is worth. If you like the price, we can tow your car and pay you for it in less than two business days.
Selling Your Car For Scrap With CarBrain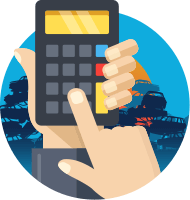 CarBrain is the market for less-than-perfect cars. With over a decade of experience buying old, damaged, and junk cars, we know how to develop a fair market offer for your vehicle. You can get a quote in under 90 seconds and schedule a pickup in under 48 business hours.
CarBrain offers always include FREE towing and FREE title transfer. Additionally, our offers are guaranteed for seven days, so you have time to think it over before completing the sale. CarBrain's associate buyers are always ready to help you sell your car and get paid fast.
Don't waste time with last-minute hagglers, negotiations, and lowballers. At CarBrain, we know what your car is worth and we want to pay you for it. Get an offer and start selling your scrap car today.
Selling Scrap Cars Made Simple: The CarBrain Advantage
CarBrain has been in the business of buying damaged cars for over a decade. We have the experience and industry knowledge to give you the right offer for your vehicle in any condition. Our expert evaluators know how to price out cars to maximize your profit.
From day one, our goal has been to change the process of selling damaged cars, making it easier for you to get an offer and sell your car for scrap near you.
We've developed a smart price engine that can automatically generate offers for most vehicles in just 90 seconds, so you don't have to wait around for hours to get an offer.
After nearly 20 years of experience, CarBrain has crafted the perfect place where you can sell your scrap car easily.
Pick-up wrecked vehicles within 24-48 hours.

Zero towing fees.

Zero title transfer fees.

No last minute negotiations or haggling.

Hassle-Free!
We prioritize speed and convenience as well. When you accept an offer from CarBrain, we can send a tow truck driver to your car's location in 24 to 48 business hours. You'll get paid on the spot when we pick up the car — there's no delay in payment!
We also value honesty, transparency, and reliability. Our associate buyers can answer any questions you have about how we price cars, how our service works, and what your options are.
We can walk you through getting a duplicate title, transferring ownership of the vehicle, title laws in your state, and more.
We work with a vetted network of licensed junk car buyers nationwide that help us pick up and purchase cars in under 48 hours.
All our payments are done by check to ensure that you get the full amount when we collect your vehicle.
There's no last-minute haggling or negotiations — we'll pay you a guaranteed price.
How Can I Sell My Car For Scrap With CarBrain?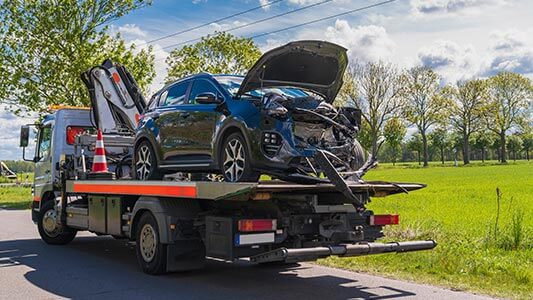 Selling to CarBrain is easy. All you have to do is:
Click "get an offer"

Fill out the form

Get your quote!
To increase the accuracy of your offer, upload photos of your car demonstrating the damage to the vehicle.
Including the Vehicle Identification Number can also help us verify its mileage and accident history, ensuring that the entire process is seamless.
After you upload the information, we'll provide you with an instant offer in most cases. In a few instances, it may take up to an hour for our expert associate buyers to generate an accurate offer for your scrap car. In that case, wait for a phone call and an email detailing your offer!
Once you have the offer, you can decide if you like it or not. You have seven days to think it over. When you're ready to sell, reach out to your associate buyer, and schedule your free pickup time — we can be at your place in under 48 business hours!
Wait for the tow truck driver to arrive at the scheduled time, and make sure you have the car keys and vehicle title ready.
How Much Is My Scrap Car Worth?
How much you can get for your scrap car depends on its age, make, model, condition, and more. You can get as little as $75 or as much as $1,000 for a junk car depending on where you go, what kind of demand there is for your car's parts and more.
Scrap metal prices can fluctuate throughout the year, which means it can be difficult to predict what your car will sell for once you're ready to get an offer.
It is a good idea to get quotes from multiple different locations for your junk car when trying to sell it. One place may give you a higher offer than another. However, remember to keep in mind that some places will charge fees, including towing fees, to purchase your car.
CarBrain can quickly evaluate scrap car prices in your area to determine what your scrap car is worth. We never charge any fees of any kind when you sell us your car — from title transfer to towing, everything is covered. You can get a fair market offer for your car in 90 seconds.
---
Scrap Cars CarBrain Will Buy
CarBrain specializes in buying all kinds of less-than-perfect cars, including scrap cars. We'll make an offer on:
Non-running and non-working cars

Salvage and rebuilt vehicles

Old or high-mileage cars

Cars with body damage

Vehicles with mechanical damage

Cars with blown engines

Cars with bad transmissions

Junk and scrap cars

Unwanted vehicles

Cars for parts
We'll make an offer on your clunker in any condition. Find out how you can junk your car with CarBrain now!
Where Can I Sell My Scrap Car?
There are numerous places where you can sell your car for scrap metal, depending on your goals and patience. For instance, you can sell your car:
At a junkyard or scrap yard.

To a dealership.

To an individual hobbyist.
The best place to sell your car depends on what you want to do, what your timeline is and how much you want to get for your vehicle.
Trading your car into a dealership can help you get a new car right away. Once you trade the car in, you get some credit towards the purchase of a new car at the dealership.
Keep in mind that you might get the lowest value using this method because dealerships do not specialize in junk cars. They're far more likely to lowball you when creating an offer since they view accepting your car as a trade-in to be more of a favor to you than a benefit to them.
You can also sell your vehicle directly to a junkyard or scrap yard. These yards will typically offer you the scrap metal value of your car, which is what most people expect for a junk car.
However, you must confirm that a local junkyard or scrap yard will accept vehicles in your area before completing the sale. This is because if your vehicle doesn't run, it will need to be towed. If you are too far from the yard, they may not tow your vehicle or may charge additional fees to complete the tow.
You can also find a local hobbyist interested in using any parts of your vehicle they can salvage. However, depending on what condition your car is actually in, chances are not many individual people will be interested in it. Even if they are, you and the buyer will have to negotiate who covers the cost of towing.