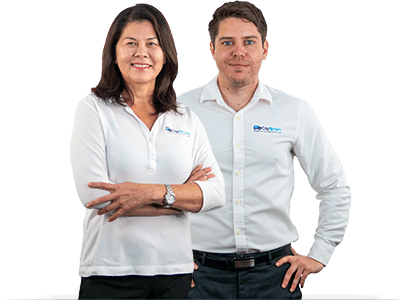 We Buy
Less-Than Perfect

Cars
Selling a car with a salvage title can be daunting, but with the right knowledge and approach, it's possible to find a buyer and get a fair price for your vehicle.
In this article, we'll explore what it means for your car to have a salvage title and how it affects your car's value and safety. We'll also discuss the steps you need to take to sell a vehicle with a salvage title and how to get a salvage title cleared.
Salvage Title Meaning
A salvage title is issued to a vehicle that has been declared a total loss by an insurance company due to extensive damage from an accident, flood, fire, or other accidents. Generally, this occurs when the vehicle's repair costs exceed 75% of the car's actual cash value.
As a result, the insurance company takes ownership of the car and brands it with a salvage title.
This title significantly affects the car's value, as potential buyers perceive it as a high-risk investment. Plus, the cost of any repair to get the automobile to a working state is exorbitant, further driving down demand and value.
A salvage title also informs potential buyers about the car's safety. That's because such significant damage compromises the vehicle's airbag functionality, structural integrity, and safety features. Plus, there could be hidden damage and vehicle control issues that haven't been identified.
Even if you are interested in buying a salvage vehicle to repair and drive, your state might not allow it. That's because some states have stringent regulations and they do not allow people to drive or register salvage title cars on public roads.
Our expert evaluators can help you get an accurate estimate for your car's value, FAST!
Steps To Sell A Salvage Title Car
Selling a car with a salvage title requires careful planning and disclosure to potential buyers. Follow these steps to increase your chances of a successful sale:
Complete a thorough inspection: Get a comprehensive inspection done on the car by a qualified mechanic—if this was not already completed by your insurance company. This step will identify any underlying issues that might impact the vehicle's safety or performance.

Conduct research on your car's value: Use websites like Kelley Blue Book to determine the car's fair market value, taking into account its current condition and the extent of repairs needed. You can also look into other listings of vehicle in similar salvage condition.

Consider repairs and improvements: Using the information gained from your research and consultation with a mechanic, decide if any repairs are worth the investment. Depending on the damage to your car, some small repairs might increase its value.

Decide on your target market: Focus your efforts on individuals or dealerships that specialize in purchasing salvage title vehicles. You'll either need to find specialized junk car buyers or sell privately on sites like Facebook Marketplace.

Understand your legal requirements: Some states may require additional documentation or disclosures when transferring ownership. So, research the laws surrounding selling a salvage title car in your state.
Selling a salvage car takes a lot of work. Fortunately, CarBrain is here to do all the heavy lifting for you. Just take a look at our streamlined process:
Get an Offer: Provide us some basic information about your salvage title car online or by phone. We'll give you an instant offer that's valid for seven days.

Accept the Offer: Review our offer and accept when you're reading.

Get Paid: After accepting our offer, you just need to pick a time for pickup. One of our nationwide towing partners will pick up your car for free in 24 to 48 hours. You'll hand over your keys and title and the driver will pay you on the spot.
CarBrain's streamlined process makes selling your salvage title car quick and convenient. With our expertise in the industry, you can trust that you'll receive a fair market price without hassling or haggling.
How To Get A Salvage Title Cleared
Clearing a salvage title and turning a salvage car into a rebuilt title involves a process that varies by state. Generally, though, it involves restoring the vehicle to meet safety and roadworthy standards.
Here's a general outline of the steps involved:
Understand State Regulations: You first need to know your state's laws and regulations around clearing a salvage title and obtaining a rebuilt title. Each state has its own rules and procedures, so it's essential to know what is expected in your area.

Car Repairs: You vehicle needs to be fully repaired and drivable before you can proceed. Because most states require a thorough inspection to ensure it has been adequately repaired, your car will need to pass an inspection by either a licensed mechanic or a representative from the Department of Motor Vehicles (DMV). It must meet all necessary safety standards as specified by your state.

Gather Documentation: Compile all relevant documentation to support the repairs and restoration process. This may include receipts for parts and labor, documentation of any replaced components, and proof of compliance with safety regulations.

Get Insured: Before you can get that new title, you need to find an insurance provider willing to give you coverage.

Submit Application: The next step is to submit an application to the appropriate state agency (often the DMV) requesting a rebuilt title. The application process will likely require the submission of the inspection report and all supporting documentation.
It's important to note that the process of clearing a salvage title and obtaining a rebuilt title can be time-consuming and may involve some costs, such as inspection fees and any required repairs.
However, having a rebuilt title improves the vehicle's value and marketability, as it reassures potential buyers that the car has been properly repaired and is safe to drive.