How Selling Your Damaged Vehicle With CarBrain Works
Enter vehicle details
By filling out our form with accurate information on CarBrain.com, we can give you an instant offer on some vehicles or contact you with a guaranteed offer shortly after you click "Submit for Offer."
Accept your Offer
As the vehicle owner, you will need to provide keys, signed title and access to the car. If your title is held by a lien holder, we can help you get the title released.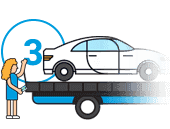 Get Paid!
CarBrain.com works with a nationwide network of partners to pick up your vehicle. On average, we can have your vehicle picked up 24 to 48 hours after you accept our offer.
Junk Cars That CarBrain Has Purchased In The Past
How Much Can You Sell A Salvage Vehicle For?
Different buyers will price your salvage vehicle differently.
For example, location plays a huge impact. Different regions of the United States have differing weather, some of which may accelerate the wear and tear, others might be more susceptible to weather-related damage.
Asides from that, some buyers will price the parts of your vehicle differently depending on the local demand. Other buyers are more interested in taking select parts (such as the catalytic converter) and have not as much interest in the actual car itself.
Others are purely interested in scrap metal. As such, you might hear different price evaluations for your vehicle. Here at CarBrain.com, we offer you the best of all words: by getting an offer from us, your car will be exposed to bids from local buyers in your area.
You can then pick and choose who gives you the better deal. And that's it. All of our offers come with FREE towing, and transfer. Never pay to sell your vehicle!
By providing us with this type of in-depth information (and pictures!), you will be sure to receive an offer that's specifically tailored to your vehicle. This will give buyers all of the information they need to make a purchase.
After you've received your offer, you have seven days to consider it. You can take us up right on the spot if you so wish, as well! All of our offers include FREE towing, and transfer of ownership. Absolutely nothing will come out of your pocket when using our service.
Finally, if you do choose to accept our offer — the only thing that's left is scheduling a time for pick-up that's convenient to you, and getting paid! You will receive a check on the spot, and the driver will take the car keys and tow the vehicle.
That's it. It's really super simple.
Are You Getting Rid Of Your Salvage Car? Obtain A Quote Now.
Receiving your fair market appraisal necessitates nothing more than listing basic details about the condition of your car. It takes just a couple of seconds! We will come to you to take your car for FREE wherever you are, across the nation.
Where Can I Sell My Salvage Car For Cash?
There's plenty of companies that buy salvage cars. But there's something that makes CarBrain.com unique.

We tailor our offers specifically to your vehicle. Our evaluators are highly knowledgeable, and they work in tandem with our pricing tool to customize evaluations to your vehicle's location and conditions.

Far more than year, make and model and the odometer reading, we take into account a plethora of factors to analyze your vehicle, whether it's a sedan, SUV, truck or van. This is also true of cars with salvage titles or rebuilt titles.
If you go to a dealership with a car that's been in an accident, they will typically offer you about 30-60 percent less than what they would have offered for a no-accident car. Once an accident is on your vehicle's history, the dealership or car buyer will offer less even if the car has no long term damage. It's almost like a mind game.

So how much can you get for your salvage vehicle? The best way to get an answer would be by using our pricing engine. We will inquire about the degree of damage (and the location of that damage), as well as any conditions related to the motor, or drivability of the vehicle.

Once you're done with the process, which generally takes about 90 seconds, you'll receive a highly accurate offer for your vehicle. If you're happy with it, you can take the leap and sell your vehicle with CarBrain!
Get A Quote From Salvage Car Buyers Near Me Now!
Receiving your fair market appraisal necessitates nothing more than listing basic details about the condition of your car. It takes just a couple of seconds! We will come to you to take your car for FREE wherever you are, across the nation.
In order to get the fair-market value of your salvage vehicle, you first need to click on "Get an Offer". This will prompt our instant evaluation tool.
First, you need to enter your car's basic details. This will just be information like the Year, Make, and Model - or your VIN if you have it handy. You will also have the opportunity to give us more detailed information, such as the mechanical condition, and whether the car has any type of damage.
At CarBrain.com, we work only with highly-qualified buyers around the country.
One of our primary goals is to have the best customer service in the entire automotive industry, and this means that we only choose to work with people who believe in that statement.
Our partners are highly vetted and we ensure that they serve our customers with the best possible service. You can trust that when you use CarBrain.com, you're selling your vehicle with reputable and highly rated salvage car buyers.
How To Calculate The Salvage Value Of Your Destroyed Car
There are junkyards that will pay to 'scrap' your non running ca which just means they will pay you for the value of the weight of the metal. They will often take off all the extra parts on the car and compress the metal into blocks.
I'm sure you've seen smashed cars somewhere, whether in person, on TV, or online. You can always call these salvage yards directly. While that might appear convenient, the downside is that typically, local scrapyards will not be interested in not more than the scrap value of your vehicle.
On the other side, there are self-service yards that will be interested in the individual parts of the vehicle. They might offer you a bit more, but it's still right around the value of your car in scrap metal.
Alternatively, you can sell your car with private buyers. They will generally offer you more, however, it may be time consuming to shop around for someone who will purchase your vehicle.
You will need to use services like the Facebook Marketplace, OfferUp, LetGo, or Craigslist in order to find buyers. This constant back-and-forth may be time consuming and more time than you'd be able to afford.
What Types of Salvage Vehicles Does CarBrain Buy?
The Difference Between Salvage Value And Scrap Value
Salvage value is generally referred to as what insurance companies can sell the car for at public auctions. So — if a car is crashed, for example, the insurance company might decide that the repairs resulting from the accident exceed the market value of the car. This means that this particular car would be declared "totaled".
If a car is totaled, typically the insurance company will retain the vehicle, and then head to an auction to try to sell it. This selling price is generally considered the "salvage value".
On the other hand, scrap value is generally referred to as the weight of the car in scrap metal times the price per ton of scrap metal. So, for example, if you have a car that weighs 2,200 lbs and the current price per ton of metal is $100 — then your car would be worth $220.
This might not be ideal if you have a car that is still in somewhat good condition, so it's helpful to know what options are available for you in the marketplace.
The process is as easy as unlocking your phone. Go to any page on our website and you'll see a button that says "Get an Offer". For many models of cars, you'll receive a guaranteed instant online offer.
Or, we might need a few more details about your car, and you will receive a call from one of our car buyers quickly after you submit the form. They will give you your offer over the phone and email it to you.
How Will CarBrain Value My Salvage Vehicle?
CarBrain analyzes many facets of your car before making an offer for your vehicle. For example, where the car is, the wholesale worth of your car before the accident, the amount of damage or mechanical and electrical problems, the current market demand for your vehicle and its parts, its make, model, mileage and how old it is all play a vital role in deciding the value.
For example, there are cars, like an 18-year-old sedan that doesn't start or run, won't get the same offer as others, like a low-mileage two-year-old sports car with collision damage. Some vehicles fall in-between, like a high-mileage nine-year-old SUV with electrical problems.
There are no "book" values for damaged or salvage cars, but at CarBrain, we have over 30 years of experience in buying less-than-perfect vehicles. Our goal is to provide a well-rounded offer to every customer.
Are There Any Costs To Selling Salvage Cars?
CarBrain is a free service. There are no charges for evaluations and offers. If you sell a car with CarBrain, we cover the costs for pick up and towing. We don't like the practice of having hidden fees, so we don't have any. When you sell your car to CarBrain, we pay you, not the other way around.
You are responsible for any repair expenses or storage fees incurred before selling the vehicle to CarBrain.
The insurer is required to prepare a thorough estimate of the damages and will be responsible for paying the vehicle's owner this amount of money. Whether you repair the vehicle is honestly up to you. Once the insurance company determines how much they owe, CarBrain will then pay you the residual value of your damaged car prior to repairs.
The vehicle owner can receive two payments, one from the insurance company for the damage settlement and a second from CarBrain for the total salvage value of the vehicle. These amounts can then be combined to purchase a brand new vehicle. Repairing the banged up car isn't always the best option.
---
Common Questions That You Might Have
Who Buys Salvage Cars Near Me?
We would be ecstatic to give you a solid offer for your junked or salvage car. We buy metal on wheels as long as they are less-than-perfect. Repairing your vehicle after an untimely accident can be an expensive, stressful, long and complicated process.
And, even after your car receives a solid job on the repair, it still will likely take a massive hit regarding value, to the tune of up to 32 percent. When it's time to sell a car, up to 56 percent of people will not buy a previously damaged car. Selling your car to CarBrain may be a great option as opposed to repairing the vehicle. Submit your online request for an offer now.
How Do You Salvage A Car?
To salvage a car, you need to do a few things. First, empty out the vehicle of your belongings. Then, start researching and contacting car salvage companies in your area for quotes. Many will be able to offer you a price over the phone. Once you have an offer you like, you should arrange to bring or tow the car to the company and get paid.
Some companies will leave the cost of towing to you. Others will make it difficult to get a guaranteed offer before you bring the vehicle in. CarBrain can provide you a guaranteed online offer for your salvage car, and even if your car is salvage, pickup with all our offers so you know you won't have to pay a penny to sell your salvage car.
Can I Sell My Car With A Salvage Title?
Yes! Whether you have a rebuilt Ford or a salvage Toyota, you can get an offer for it. The best place to do so is with CarBrain — we specialize in cars with problems, including salvage cars. It takes just 90 seconds to get an offer, and 24-48 hours to wait for the tow truck driver to arrive and get paid.
Where Can I Sell My Salvage Title Car?
You can sell it to a junkyard, get a low trade-in value from a dealership, try to find an interested buyer in your area — or sell your salvage car online with CarBrain. All we need is information about your car to make an offer in 90 seconds. Pictures and the VIN can help us provide the best guaranteed offer, and our quotes are guaranteed for seven days.
Our fast and easy process is what makes us the best site for salvage cars and salvage car sellers. Find out what your car is worth today and sell it in 24-48 hours!
How Does A Car Become Salvage?
Typically, a car is declared a salvage when the insurer decides that the vehicle is a total loss. A vehicle is declared a total loss when the insurance company determines that the cost of repairing the vehicle is close to or exceeds the value of the vehicle before it was damaged.
For instance, if a car is worth $10,000 before it was involved in an accident, but requires close to $10,000 in repairs after an accident to return to running condition, an insurer may declare the vehicle a total loss and assign it a salvage title.
How Much Can I Get For My Salvage Car?
You can get anywhere from a few hundred to several thousand dollars for a salvage car, depending on its year, make, model, mileage, current condition and more.
Is it repairable? Are there still usable parts that can be recycled? What size is it? All of this and more can affect what you get for your car. The easiest way to find out what it's worth based on current market rates is to get an offer from CarBrain — it takes just 90 seconds to generate a quote.