How Much Can You Sell A Salvage Vehicle For?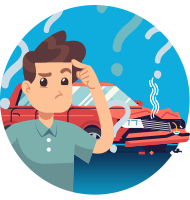 Different buyers will price your salvage vehicle differently. Depending on several factors, the price you sell your salvage car for can vary significantly. These factors include:
Year/Make/Model

Location

Regional Demand

Overall Condition
Asides from these, some buyers will price the parts of your vehicle differently depending on the local demand. Other buyers are more interested in taking select parts (such as the catalytic converter) and have not as much interest in the actual car itself.
Others are purely interested in scrap metal. As such, you might hear different price evaluations for your vehicle. Here at CarBrain.com, we offer you the best of all words: by getting an offer from us, your car will be exposed to bids from local buyers in your area.
You can then pick and choose who gives you the better deal. And that's it. All of our offers come follow a simple, three step process:
Get your free quote! Simply enter some basic information about your car on our website and you'll receive a free and guaranteed quote within 90 seconds.

Towing is complementary, so you'll never have to worry about hidden or additional fees taking away from the profits you take home.

Schedule your pickup within 24-48 hours! If you're happy with your quote, you'll be able to schedule your vehicle retrieval with one of our partners within your area. They're trusted to come to you at a time that works best for you.

Complete your sale! After a quick inspection and transferring of your title, you'll receive the amount you were quoted, no haggling or fuss. Your vehicle is taken off your hands and money is put in them!
That's it. It's really super simple.
Our expert evaluators can help you get an accurate estimate for your cars value, FAST!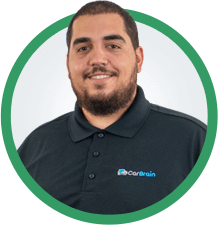 Where Can I Sell My Salvage Car For Cash?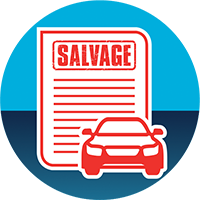 There's plenty of companies that buy salvage cars. But there's something that makes CarBrain.com unique. We tailor our offers specifically to your vehicle by incorporating several factors into the evaluation:
Vehicle Location

Vehicle Condition

Vehicle Year/Make/Model

Vehicle Mileage

Vehicle Size
If you go to a dealership with a car that's been in an accident, they will typically offer you about 30-60 percent less than what they would have offered for a no-accident car. Once an accident is in your vehicle's history, the dealership or car buyer will offer less even if the car has no long term damage. It's almost like a mind game.
So how much can you get for your salvage vehicle? The best way to get an answer would be by using our pricing engine. We will inquire about the degree of damage (and the location of that damage), as well as any conditions related to the motor, or drivability of the vehicle.
Once you're done with the process, which generally takes about 90 seconds, you'll receive a highly accurate offer for your vehicle. If you're happy with it, you can take the leap and sell your vehicle with CarBrain!
Get A Quote From Salvage Car Buyers Near Me Now!
The most common places to get a quote for your salvage car and get a cash offer are junkyards and private buyers. Each of these options are interested in buying a car with mechanical damage and have their pros and cons depending upon how quickly you're trying to sell your car, how much money you're trying to make, and how much hassle you're willing to put up with.
Junkyards — When looking for places that buy junk cars near you, local junkyards are the common choice.They will pay to 'scrap' your non running car which just means they will pay you for the value of the weight of the metal. They purchase them quickly, but they make their profit by buying low and reselling the usable parts.
Private Buyers — Private buyers aren't restricted by pricing or any condition constraints. If your model is popular and in demand, someone will want it. Finding that person, however, can be a massive hassle; vetting serious candidates and haggling being chief amongst the most annoying portions of the process.
Choosing an option that accepts vehicles with any type of damage quickly with as little headache and as much profit for you as possible is critical. It's in your best interest to know you're selling your vehicle with a reputable and highly rated salvage car buyers.
How To Calculate The Salvage Value Of Your Destroyed Car
What Is The Salvage Value Of My Car?
Typically, a salvage car refers to a car with a salvage title. These are vehicles that have been declared total losses by an insurance company and given a salvage branding on their title.
Salvage brandings are typically permanent, which means once it is placed on a title, it can't be removed. In some states, you can rebuild a salvage title car and get a rebuilt branding as well, but all future buyers will still know that the car was declared a total loss at one point.
Sometimes salvage title cars are junked, torn apart and recycled for their parts. Some, however, can be repaired and resold to someone who is willing to take on the risk (and the insurance bump) on a salvage title car.
How Do You Get A Salvage Title?
Sometimes the term salvage car is used colloquially for a car that is at the end of its life, or has experienced damage but hasn't received the salvage branding yet. It can also be applied to cars with major mechanical damage.
To best figure out a scrap car's value, a calculator with 2022 scrap metal prices will help you out immensely.
How Is Salvage Value Calculated?
The actual math for determining salvage car prices is pretty straightforward.
For all vehicles, depreciation will proceed at a predictable rate for the lifetime of the car.
After One Minute a brand new car will lose an average of 10% of its value the moment it is driven off of the dealership lot. That means a $30,000 vehicle is immediately worth $3,000 less once those wheels hit a public road.

After One Year a new car has suffered its biggest drop in value. Those first 12 months of ownership will result in a car being worth 20% less than what it was purchased for. That $30,000 car is now only worth $24,000.

After Five Years the car will have lost around 60% of its total value. The steep dip of the first year is replaced by a 15-25% depreciation each following year until the five year mark. That $30,000 is now worth $12,000.
For salvage vehicles, however, you also have to factor in additional wear and tear. A car's salvage value is typically much lower than its used car value, especially if it's no longer running.
Common Issues With Salvage Cars:
Broken Transmission

Dead Battery

Check Engine Light

Bad or Broken Brakes

Faulty Electrical Systems

Body Damage

Fuel System Issues
If a car has not been repaired after a major accident, it will only be worth 10%-50% of an equivalent used car's value. Even if repaired, you're still only likely to receive about 70% of its undamaged value.
I'm sure you've seen smashed cars somewhere, whether in person, on TV, or online. You can always call these salvage yards directly. While that might appear convenient, the downside is that typically, local scrapyards will not be interested in not more than the scrap value of your vehicle.
On the other side, there are self-service yards that will be interested in the individual parts of the vehicle. They might offer you a bit more, but it's still right around the value of your car in scrap metal.
What Types of Salvage Vehicles Does CarBrain Buy?
The Difference Between Salvage Value And Scrap Value
Salvage value is generally referred to as what insurance companies can sell the car for at public auctions. So — if a car is crashed, for example, the insurance company might decide that the repairs resulting from the accident exceed the market value of the car. This means that this particular car would be declared "totaled".
If a car is totaled, typically the insurance company will retain the vehicle, and then head to an auction to try to sell it. This selling price is generally considered the "salvage value".
On the other hand, scrap value is generally referred to as the weight of the car in scrap metal times the price per ton of scrap metal.
This might not be ideal if you have a car that is still in somewhat good condition, so it's helpful to know what options are available for you in the marketplace.
How Will CarBrain Value My Salvage Vehicle?
CarBrain analyzes many facets of your car before making an offer for your vehicle. For example, where the car is, the wholesale worth of your car before the accident, the amount of damage or mechanical and electrical problems, the current market demand for your vehicle and its parts, its make, model, mileage and how old it is all play a vital role in deciding the value.
For example, there are cars, like an 18-year-old sedan that doesn't start or run, won't get the same offer as others, like a low-mileage two-year-old sports car with collision damage. Some vehicles fall in-between, like a high-mileage nine-year-old SUV with electrical problems.
There are no "book" values for damaged or salvage cars, but at CarBrain, we have over 30 years of experience in buying less-than-perfect vehicles. Our goal is to provide a well-rounded offer to every customer.
Are There Any Costs To Selling Salvage Cars?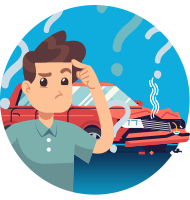 CarBrain is a free service. There are no charges for evaluations and offers. If you sell a car with CarBrain, we cover the costs for pick up and towing. We don't like the practice of having hidden fees, so we don't have any. When you sell your car to CarBrain, we pay you, not the other way around.
You are responsible for any repair expenses or storage fees incurred before selling the vehicle to CarBrain.
The insurer is required to prepare a thorough estimate of the damages and will be responsible for paying the vehicle's owner this amount of money. Whether you repair the vehicle is honestly up to you. Once the insurance company determines how much they owe, CarBrain will then pay you the residual value of your damaged car prior to repairs.
The vehicle owner can receive two payments, one from the insurance company for the damage settlement and a second from CarBrain for the total salvage value of the vehicle. These amounts can then be combined to purchase a brand new vehicle. Repairing the banged up car isn't always the best option.