How Selling Your Damaged Vehicle With CarBrain Works
Give Us Your Vehicle's Details
Step one: fill out our easy form with information about your vehicle. What's the year, make and model? How bad is the damage? Where is your car located? The more details you provide, the more accurate our offer can be!
Receive And Review Your Offer
Once you fill out our form, our omnipotent Brain that powers our engine will give you an offer for your vehicle. If the information you provided is correct and no additional details are needed, this offer will remain GUARANTEED for 7 days.
Show Up And Get Paid
The last step is to schedule a time and date for delivery. The towing driver will provide you a window of time and contact you prior to arrival. Make sure you have the car title and car keys ready. When the driver arrives, hand them over and then accept your on-the-spot payment. That's all!
Junk Cars That CarBrain Has Purchased In The Past
How to Deal With Your Damaged Vehicle (With No HEADACHES!)
Being stuck with a damaged car is no fun. We know that. There's never a good time for this kind of situation to happen. Sometimes, they're unavoidable (like a tree falling on your car).
Fortunately, CarBrain is here to help you. Since our inception in 2007, we've been dealing with damaged vehicles in almost any scenario you could think of. We're the experts that are going to help YOU find the best and easiest way to get rid of your damaged car.
We have put together this resource page with all of the tips, tricks, and most relevant information for you to navigate through your situation. If you have any questions, feel free to call us at 877.877.7911 and talk to us. We will be happy to give you our fair-market evaluation of your damaged car.
Are You Getting Rid Of Your Junk Car? Obtain A Quote Now.
Receiving your fair market appraisal necessitates nothing more than listing basic details about the condition of your car. It takes just a couple of seconds! We will come to you to take your car for FREE wherever you are, across the nation.
Your Vehicle Has Been Damaged — What's Next?
Your car has been the victim of an unfortunate accident. Now you find yourself in a situation where you are unsure of what your next steps should be. The first step is going to be dealing with the logistics of your insurance company.
Did you register the event that caused your vehicle to be damaged?

Are you covered?

Will the insurance grant a payout for the financial loss on your vehicle?

Are you in one of the states that allow you to retain (or buy back) your vehicle?
Once you have your answer to each one of these questions, we can start thinking about ways to deal with your situation: you have a car that's damaged beyond what's legally allowed to operate & you need to go to work, school, daily life, etc.
On our website, we have written resources dealing with specific types of damage. For example:
Next, we need to assess the severity of damage on your vehicle, and from there we can determine what your next steps will be. Since not all damage will stop your car from running, you will have different options on how to move forward.
Once you go to find the current value of your damaged vehicle (as-is), you might see that you have negative equity. This happens when the cost of fixing your car is more than what you owe.
At first this might seem like a negative situation, but we may be able to help you in these types of scenarios. If our offer exceeds the amount that you owe on the car, we will buy it. Picture this scenario:
You owe $1,000 on the vehicle. It's damaged, and repairing it just doesn't make sense. You'd be incurring additional expenses, plus whatever you still owe money.
Instead, you go to CarBrain.com and you get your offer. Let's say our offer is $1,200 for the vehicle and you take us up on that offer. Now, instead of sinking more cash into a wrecked or broken vehicle, you're $200 net positive.
It's important to note that our offers may not always exceed what is still owed on the vehicle. When this is the case, we are not able to purchase the vehicle from you. However, in order for you to understand where your vehicle falls in this equation, you need to know the value of your car as-is.
To find the value of your vehicle as-is (in its current condition), go to our pricing tool and enter your information.
What Are Your Options if Your Vehicle Has Mechanical Damage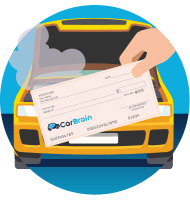 If your vehicle has mechanical problems (resulting from something like frame damage), it might not be safe to continue driving or using it. In some cases, you might have the ability to repair or replace the damaged parts. Whether you should do so will depend on some factors.
If the costs of repairing your vehicle exceed the value of your car, it might not make sense to fix it. In this case, your car might end up being declared totaled loss.
In some cases, your insurance company will be willing to cover the cost of repairing your vehicle with damage. But ask yourself: would it be a good idea to keep your vehicle?
If it's a new car and it's manufactured by a brand known for reliability, then sure, it'd be fine to keep it. What caused your vehicle to be damaged might've been a one-time occurrence. But if it's an older car and it's been having issues repeatedly, it might be better to let go of it.
Departures are never a good thing, but sometimes it's just time to say goodbye. Hanging on to a vehicle that's been giving your mechanical problems repeatedly isn't the best idea. Even if you fix it, more often than not, they'll come back later.
If your insurance company has declared your vehicle total loss, you have the option to retain the car in most states. By keeping your vehicle, you'd have another way of getting money for it: selling it to us!
That's right. If you are able to keep a totaled vehicle, not only would you be getting paid from your insurance company, but you'd also have the right to sell it to a buyer of your choice.
Alternatively, you may be in a situation where insurance won't cover the costs of repairs. The best option you'd have in this scenario is to sell the vehicle. Paying for repairs out of pocket now only to do it again in six months wouldn't make sense.
But you may be asking yourself — "who will buy my damaged car? Are there people who specialize in dealing with these types of vehicles?" If you already know that fixing your vehicle is simply not worth it, you can simply cut to the chase and get started selling your vehicle here.
---
Who Will Buy Your Damaged Vehicle?

Companies that buy damaged cars come in all shapes and sizes. From the solo shop looking to repair and re-sell to nationwide buyers like CarBrain, each one of your options will have different pros and cons for you to consider.
Will Dealerships Take In Your Vehicle If It Has Damage?
Dealerships are always one of the first options that come to mind. They are generally a fine option if your car is used or has light problems.
However, dealerships and other such places don't specialize in the evaluation of damaged vehicles. It's simply not their business model. This means that if you go to one of these places, you might not get the best possible offer that you could.
Their people and systems are not built for buying vehicles in these types of situations. What dealerships offer is a sense of familiarity and professionalism. People know that these are legitimate companies and they have a sense of trust in them.
However, they shouldn't be your go-to choice in this type of situation.
Private Buyers And Solo Shops
There are also private buyers and people who run their own shops that may have their own unique reasons for wanting to be less-than-perfect cars. For example:
They want to repair it and sell it.

They're looking to extract parts out of the car for specific uses.

They want to profit off of price discrepancies (if you're selling for way below market value)
Whatever their reasons may be, these private buyers will generally give you better offers than dealerships. The drawback with these buyers is going to be the time it takes to find someone who will purchase your vehicle.
Because these types of individuals are looking for cars in specific conditions, you may not be able to find your offer right away. They can typically be found online in places like the Facebook Marketplace, OfferUp, Craigslist, and other such websites.
Junk Yards And Recyclers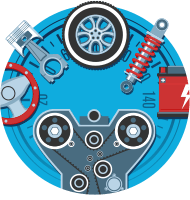 Another one of your options is going to be local yards or recycling companies closeby. They're generally well-known and straightforward. However, junkyards (similar to dealerships) are not in the business of dealing with damaged vehicles specifically.
Most of the time, you're going to get an offer that's most likely lower than what you would have hoped. That's especially true if they primarily focus on the scrap metal market. In these cases, you might get an offer for just the scrap metal value of your vehicle.
Sell It To The Experts In The Damaged Cars Business
Lastly, you also have the ability to sell your damaged vehicle to people who specialize in these types of cars. CarBrain.com has been in the market for damaged vehicles since 2007. Throughout this time, we've seen over a million cars come through our system.
We are highly skilled experts who specialize in buying and evaluating vehicles in any condition. When you deal with us, you are dealing with people who understand how to properly value your car.
We offer you the ease and convenience of completing the entire process online. From getting your offer to accepting and scheduling pickup, you can sell your damaged vehicle without ever leaving your couch (or your jammies).
Our offers are based off of the fair-market value of your vehicle. This includes factors such as:
Year, Make, and Model

Mileage

Areas Damaged

Local Market Demands

Car History
And much more! To put it shortly: our offer is tailored specifically to your vehicle.
How Can I Get the Best Offer for My Car with CarBrain?
There are several steps to getting the most accurate offer for your vehicle.
The first step is to enter your vehicle's information on our website. As you submit these details, make sure to be as specific as possible. This will help us ensure that our offer is the most detailed to your vehicle's current state.
Be sure to include highly descriptive information about the damaged areas and / or any other issues that the car may have.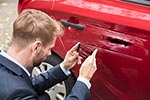 The second step is to take high quality images of the areas with damage.
This will provide useful information for when we analyze the vehicle visually by allowing us to accurately see the severity (or extent) of the vehicle's damage.
The third step is to provide the VIN.
This will let us identify the exact Year, Make, Model, and Trim much faster as well as verify the Odometer Reading.
If you provide us with the information listed above, we should be able to easily identify and accurately value your vehicle in its current condition
What Types of Damaged Vehicles is CarBrain Looking For?
How to Sell Your Damaged Car to Us
Step 1: Submit Your Vehicle's Details
The first thing we're going to need for you to sell your vehicle is what kind of car it is. This includes the Year, Make, Model, Trim, and other such information about your car.
You could also provide us with your VIN number and we'd be able to quickly identify your vehicle.
Step 2: Receive & Consider Your Offer
Once you've described your vehicle's condition and details — you will receive your offer. If the information you entered on our website is accurate and verifiable, your offer will remain guaranteed for seven days.
This means that it will not change, as long as we can verify that the information you entered is correct. You have this time to evaluate your offer and choose whether or not you'd like to move forward with us.
Step 3: Accept Your Offer & Get Paid!
If you do choose to sell your vehicle with CarBrain, the only thing that would be left is to accept your offer. To do so, speak with your dedicated account manager and they will be able to set up a time and date for pickup.
Your driver will contact you an hour before arrival. Once there, all you have to do is hand over the keys & title. The driver will hand over the check and drive off with the car. That's all that you have to do!
Once the transfer of ownership has been completed, you will be notified and receive a bill of sale.
Why Should I Use CarBrain to Sell My Damaged Vehicle?
We launched as "DamagedCars" in 2007. We've been in this business for over a decade. We have trained our eyes and computers to be able to accurately value any vehicle with any type of damage.
We help thousands of people just like you every single month deal with their less-than-perfect vehicles. We're specialized and highly skilled at this art.
CarBrain is a company you can trust. We've accumulated thousands of positive reviews all over the web and an A+ BBB Rating. You can see some of these over at our Reviews section.
We'll come to you — ALWAYS. No need to take your car anywhere. Leave it as-is, where-is.
Our offers are guaranteed for 7 days. Take your time to make sure you're making the right decision. There will be no last minute changes or uncomfortable negotiations.
We're a professional company that believes in excellent customer service. When you deal with us, we put YOU first.
---
Frequently Asked Questions
How Long Does It Take To Get Paid And Have My Vehicle Removed?
We will come to your home or office in 24-48 hours. That's always going to be our main goal. It doesn't matter where your vehicle is located — whether that's at your place of work, a friend's house, or anywhere else.
Our mission is to get to you within 24-48 business hours. You will receive payment on the spot for the final offer. There will be no last-minute changes nor will the driver try to negotiate with you. You simply hand over the keys & titles, receive your check, and they will drive off.
My Car's Accruing Fees - Will CarBrain Cover Them?
If your vehicle is in a place where you are accumulating fees, unfortunately, we will not cover them. If you find yourself in a situation like this, be sure to let your Account Manager know so that we may try our best to pick up your vehicle as quickly as possible.
We cannot always come to you in under 24-hours, nor can we guarantee it — but we can try our best to get to you as quickly as possible. So, do let your Account Manager know and we'll be sure to inform you.
Can I Sell My Car to CarBrain if I Have No Insurance?
Yes, you can. We don't require any information or interaction with your insurance company. As long as the vehicle is under your ownership (verified by the title) we can buy the vehicle.
Additionally, if your vehicle is upside down, we'll also need to make sure that our offer exceeds the amount of the balance. If this is not the case, we will not be able to purchase your vehicle.
What paperwork do I need to sell my car to CarBrain?
To sell your car to CarBrain, you're going to need the following items:
A title (A photocopy or Scan of it is fine)

A copy of your license (you can cross out your birthday & license number for privacy)
When you send pictures of your title or license, make sure that the important information is clearly visible. We need to verify ownership of the vehicle.
You can cross out the details listed above in order for you to protect your privacy.
Once we have verified ownership, we can begin the process of trading in your vehicle. In the next 24-48 hours, you will receive your check and get yourself a brand new ride!