How It Works
Enter vehicle details
By filling out our form with accurate information on CarBrain.com, we can give you an instant offer on some vehicles or contact you with a guaranteed offer shortly after you click "Submit for Offer."
Accept your Offer
As the vehicle owner, you will need to provide keys, signed title and access to the car. If your title is held by a lien holder, we can help you get the title released.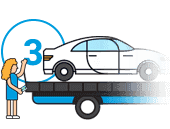 Get Paid!
CarBrain.com works with a nationwide network of partners to pick up your vehicle. On average, we can have your vehicle picked up 24 to 48 hours after you accept our offer.
Junk Cars That CarBrain Has Purchased In The Past
Car Damage After Hitting A Deer
A deer accident can cause significant damage to your vehicle. Deer sizes can range significantly. However, the most common deer in the United States is the white-tailed deer, which can weigh anywhere from 55 as a small female, to more than 400 pounds for fully-grown males. The larger the animal, the more significant the damage can be.
Most deer accidents happen head-on, which means drivers can incur damage to their engines and transmissions, as well as the body of the vehicle, the frame of the vehicle and the windshield, depending on the weight of the deer.
According to StateFarm, the average claim cost for deer damage is over $4,000. West Virginia, Montana, Pennsylvania and Wisconsin drivers are most likely to end up in a deer-related accident, which means drivers in these states should have a plan for what to do if they hit a deer on the road.
Does Insurance Cover Damage From Hitting A Deer?
In most cases, you won't get help from your insurance company if your car is damaged in a deer accident. In West Virginia, the state with the highest rate of deer accidents, the only required coverage is liability coverage and uninsured motorist coverage. Neither of those policies will cover damage from a deer accident.
Your insurance will only include animal damage to your car if you have comprehensive coverage. Comprehensive coverage includes damage from vandalization, falling objects, and hitting an animal.
Don't mistake collision coverage for comprehensive coverage. Collision covers damage from hitting other cars, objects like trees or walls, or single-car rollover accidents — but not animal damage.
No states require comprehensive coverage, which means if you only have the minimum coverage required, you won't get any financial help from your insurance company in repairing your vehicle.
Can You Fix A Car After Hitting A Deer?
Whether a deer-damaged car is fixable depends on how severe the accident was. If you collided with a small deer while driving slowly down a road, it's possible that there will only be minor damage to the body of your vehicle, which can be repaired for under $1,000.
However, if you collided at high speeds or with a large, fully grown male deer, chances are your vehicle may be totaled. In that case, there is little chance of fixing the car. Instead, your insurance company can buy it off you and pay you for the pre-accident value of the vehicle, minus your deduction.
You also have the option to keep a totaled car. Simply ask your insurance company to let you buy back the car and get the title. You'll still get the check, minus both your deductible and the company's expected profit from selling your salvage car.
Car Value After Hitting A Deer
If you hit a deer with your car, chances are your car's value will take a big hit as well. This is especially true if there is serious frame damage, engine damage or body damage. Even if you manage to make your car drivable again, its value will drop significantly because it is less structurally sound after an accident.
If your car was totaled by a deer accident, it is now a scrap car and only valuable for the recyclable parts left inside. In that case, the value of your car will depend on scrap metal prices in your area.
Your car's scrap value depends on its size, make, model, year, condition, location and more. The best way to find out what it's worth is to shop around and get quotes from different junk car buyers near you.
What Are My Options For Selling A Wrecked Car After A Deer Accident?
If your car is damaged due to an animal accident, you can still sell it for cash. There are many businesses and buyers that specialize in buying totaled, salvage or otherwise damaged cars. You do not necessarily have to turn the car over to your insurance company.
Your options for selling a car after a deer accident include:
Selling the vehicle to a private buyer
Selling the vehicle to a junkyard or scrap yard
Trading the car in at a dealership
Parting the vehicle out
Selling the vehicle online
The best option for you depends on the condition of your vehicle, its make and model and your technical know-how.
Selling A Car Hit By A Deer
Depending on the type of car you have, a private buyer may be willing to pay more for it. However, this depends on your location as well as the make and model.
Additionally, selling it privately means scheduling a time for buyers to come look at your car and determine its condition. You may also have to negotiate the price as well as who will cover towing costs if it is no longer running.
Many people believe that parting your car out can generate a better profit than selling it as a whole. This is because each individual part in your vehicle can sell for a higher price than the entire unit, especially if the vehicle has significant body damage.
However, this is not always the case. If the most expensive parts of your vehicle are damaged, such as the drive train, then you may not be able to get a good price. Additionally, even if your vehicle is not significantly damaged, you must know how to dismantle it in order to part it out.
If you sell it to a junkyard or scrap yard, you will most likely be paid for the scrap metal value of the car, regardless of make and model. You must confirm whether a particular yard can service your area for free in order to avoid additional towing charges.
Selling your car online may be the easiest way to complete the process. By selling it online, you can get accurate quotes more easily and determine whether a business is operating in your area!
Frequently Asked Questions
Why Should I Sell My Damaged Car To CarBrain?
CarBrain is the market for less-than-perfect cars. With over a decade of experienced buying damaged vehicles, we know how to determine a fair market offer for your car.
Selling to us couldn't be easier. All you need to do is get a quote with our handy form. It takes less than 90 seconds.
CarBrain offers are always no-obligation and no-hassle, and include FREE towing and FREE title transfer. There are never any hidden charges or fees. We can help you schedule your free pickup in under 48 business hours with our excellent customer service team.
Who Tows My Car If I Sell It To CarBrain?
CarBrain works with a nationwide network of licensed and experienced junk car buyers and towers to pick up cars. Our partners help us come to you at your home or office in under 48 business hours, and there are never any fees to have your car towed.
Our drivers will give you a window of time that they will arrive when you schedule your free pickup. While they cannot provide a more specific time in advance, you can ask your driver to give you a one-hour warning when they are heading over to pick up your vehicle.
How Do I Sell A Car That Hit A Deer To CarBrain?
Selling to CarBrain is easy. All you have to do is:
Click "get an offer"
Fill out the form
Look at your quote!
If you like what you see, you can schedule your pickup for a time convenient for you. If you're not ready to sell, that's fine. CarBrain offers are guaranteed for seven days, so you can think it over.
Before the driver arrives, make sure you have a certified copy of the title and that you have removed all your belongings from the vehicle. Additionally, make sure you have your keys on hand, which the driver will need to collect the car.
When the tow truck driver arrives, he or she will hand you a check on the spot. You turn over the keys and title. It's that simple.
If you have a car damaged by an animal, selling to CarBrain is the easiest, smartest and safest way to get paid for it.
Why wait? Get started today.