Water damage can render a vehicle's engine entirely useless, create mold in the interior of the car, ruin the electronics and more. That's why selling a flood damaged car can be a challenging task for owners looking to get rid of their vehicles.
Luckily, it's not impossible to get cash for water damaged cars. Learn more about the challenges involved in selling a vehicle with water damage, and how CarBrain can help.
Can You Sell A Flooded Car?
You can sell a car with flood damage, but it's vital that you disclose the damage. If you filed an insurance claim, your insurance company is likely to have placed a branding for water damage on the title. That will give it away to any individual who looks at the vehicle's title history.
However, even if your vehicle does not have a water damage branding on its title, you are still ethically — and in some cases, legally — obligated to disclose the fact that it has been flood damaged. Many states explicitly spell out in the law that individual sellers must disclose flood damage to a vehicle when attempting to sell it to another individual.
This means that not disclosing the damage can open you up to legal action down the line when the buyer does eventually discover the water damage.
Does CarBrain Buy Cars With Water Damage?
CarBrain can buy cars with water damage in some scenarios. The best way to find out if we can pay cash for your flood damaged car is to get a quote and speak to one of our customer service representatives.
In many cases, we can buy your car — free towing and on-the-spot payment included!
CarBrain has purchased cars with the following issues:
Cars with flood damage

Cars with mechanical damage

Accident-damaged cars

Wrecked cars

Total loss vehicles

Non-running cars

Non-starting cars

Old cars

High mileage cars

Used vehicles
We can make an offer on your car with water damage too! It takes just a couple of minutes to fill out our form. We can pick your car up in as little as 24-48 hours and pay you on the spot for it.
Our expert evaluators can help you get an accurate estimate for your cars value, FAST!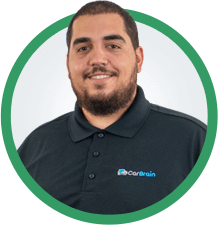 How Much Is My Flooded Car Worth?
Your flood damaged car's value depends on a number of factors, including but not limited to:
The year, make, model and trim

The current condition of the vehicle's mechanical components

The current condition of the vehicle's electronics

Your vehicle's location

The current mileage

The vehicle history report
The best way to find out exactly what your car is worth is to get a quote from buyers in your area who would be willing to purchase a flood-damaged car.
Your vehicle may only be worth its value in scrap metal, or it could be repairable and resellable, which means the quote could range from a couple hundred dollars to over $1,000 depending on the buyer. That's why getting a custom quote for your vehicle is the best way to determine its current fair market value.
How Does Selling A Car with CarBrain Work?
CarBrain makes it easy to sell a car with damage. Our process takes three easy steps:
Get an offer. All you have to do is fill out our simple form, and we'll provide an offer for you based on the details you provide about your vehicle.

Schedule your pickup! If the offer we generate works for you, your dedicated file manager can help you schedule your free pickup and on-the-spot payment for a time that works for you.

Collect your check! Finally, just wait for the tow truck driver to arrive with your payment in hand! Give the driver the keys and your title and collect your payment. That's it!
Our simple process is designed to minimize the headache that comes with selling a car with problems online.
You don't have to pay any hidden fees, visit any office to have your vehicle examined, or haggle endlessly with multiple different companies to get the best quote. We take care of it all for you.
Who Buys Flooded Cars?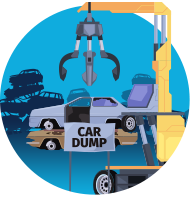 You can sell your flooded car in a couple of different places:
Junk Car Buyers might be interested in buying a flood damaged car! After all, as long as there are parts and metal that can be recycled, they can extract value from the vehicle.

However, they may not pay you much more than the value of the car's scrap metal. That means if you think your car is worth more than that, and you're willing to shop around to get more, then this is not the best choice for you.

Dealerships can sometimes let you trade in a non-functioning vehicle as credit towards the purchase of a new car. This is because they're incentivized to do what it takes to encourage you to purchase a vehicle from them.

However, if they do not specialize in cars with problems, they may significantly lowball you on the vehicle.

Private Buyers may be interested in your vehicle as a project car, depending on how serious the flood damage is. The more serious it is, the harder it will be to find an individual interested in your car.

Then you have to negotiate one on one, and figure out who is responsible for towing the vehicle. That can affect the final price you negotiate for.
The better option may be to use an online damaged car buyer — like CarBrain. We've been buying less-than-perfect cars since 2007, and we make the process easier. We know how to value and purchase vehicle in any condition, including flood damaged cars.