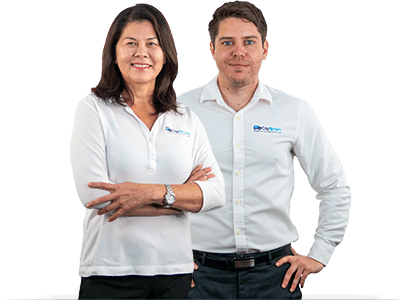 We Buy
Less-Than Perfect

Cars
It's pretty discomforting when your car shakes and rattles uncontrollably. Whether you're driving at full speed or it begins shaking when you're braking, it is always a sign that you need to get your car checked out.
Fixing the cause(s) behind your car making a rattling noise can be expensive. If you'd rather avoid paying for repairs, check out how much your car is currently worth.
Let's explore some common reasons as to why your car might be shaking while you're driving, if it's even safe to drive a car that shakes, and what to do with your car that shakes.
Why Does My Car Shake When I Stop?
There are several reasons behind why your car is shaking while braking. Any of these common causes could be the (or one of the) culprits behind your car rattling while braking.
Engine & Transmission Problems: As the heart of your vehicle, any issue within your engine could be the culprit behind your entire car shaking. Spark plug malfunctions and faulty air filters can cause your vehicle to shake.

Depending on the make and model of your vehicle, spark plugs typically have a lifetime of 80,000-100,000 miles. If the plugs and their connectors appear to be okay, then direct your attention to your air filter next. A clogged or dirty air filter can restrict the necessary oxygen and/or fuel that your engine needs to run smoothly.

Brake Problems: If your car is vibrating whenever you press on the brakes, then the issue is likely the fault of your front braking mechanism. Your front brakes take on the majority of the stress when you're braking and, therefore, need a few of their parts replaced regularly (rotors and pads).

Every vehicle has a different point at which the brakes must be replaced. The rule of thumb is to have the brakes replaced around every 50,000 miles, but certain models can last longer than others.

Axle Problems: If either of your vehicle's axles are bent or dented, your entire chassis can end up vibrating as you drive.

Axle damage can be caused by collisions or even as your car interacts with the road and the subsequent vibrations will typically increase throughout your acceleration.

Suspension Issues: Worn suspension components can be the cause behind your rattling while braking. You're likely to feel the rattling through your steering wheel or brake pedal.
Our expert evaluators can help you get an accurate estimate for your car's value, FAST!
Should I Be Worried If My Car Shakes?
Your car noticeably vibrating while you're on the road is something to be concerned about. Usually, they aren't cause for immediate alarm. However, ignoring the rattles and continuing to drive around can increase the severity of the damage your car already has.
Furthermore, depending on what part of your car is causing it to shake, you could be jeopardizing the safety of you and/or your passengers.
How Do I Fix My Car Shaking?
Engine - Spark plug malfunctions and faulty air filters can cause your vehicle to shake. The plugs can cost anywhere from $16 to $100 to replace and the air filters range from $15 to $25.

Brakes - Brakes range anywhere from $250 to $400 per axle. This is a full replacement of the brake pads and rotors.

Axles - Damaged axles differ in price slightly. Repairing your front axle can cost $550. The rear axle is a bit more expensive to fix, sitting at $799. Cost will also vary depending on the make, model, and type of vehicle you drive.

Wheels - Your wheel bearings cost $350 to repair nationally, with that price changing for luxury brands. Quality ball joints will run you between $100-$150, while the tie rod ends will cost between $20 and $100.

Suspension - Repairing your suspension is the bigger ticket. If your suspension system is the cause of your vehicle shaking, then you could be looking to spend anywhere from $1000 to $5000 on the repairs.
What Can I Do Besides Fixing The Shakes?
When you want to avoid repairing a car that shakes while braking, WeBuyTotaledCars is here to help. We have over 30 years of experience in buying totaled cars. Rather than take the low offers from junkyards near you, you can get a fair price for your car right now.
WeBuyTotaledCars specializes in buying vehicles with problems, including cars with transmission issues. Don't worry about bringing your car to a repair shop — you can get a cash offer for your car when you choose us.
The entire process is as easy as 1-2-3:
Get an offer for your vehicle! You'll want to upload those photos and VIN to WeBuyTotaledCars. In less than 90 seconds you'll receive a quote that's good for seven days!

Schedule your pickup once you accept our quote. Towing and title transfer are always covered by us, and towing is scheduled at your convenience. A driver can pick up your car as quickly 24-48 hours from accepting our offer!

Complete the sale! When the tow truck arrives, sign over your title, hand over your keys, and take your check. Selling your car in under a week and for the best possible price, all from the comfort of your own home ensures you'll be in the best possible position to purchase your next car and get back on the road.
Get a no-obligation quote from WeBuyTotaledCars today and find out what kind of payment you can.