What Can You Do if You Have A Wrecked Vehicle?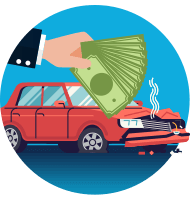 Car accidents happen unexpectedly and instantly cause major havoc on your life. While the health of those involved in the wreck is the most important thing to worry about, getting stuck with a non-drivable car can create additional stress and headache.
Regardless of what condition your car is in, or the severity of the damage — CarBrain.com will give you a fair-market value offer in just 90 seconds. All it takes is answering a few basic questions, uploading some pictures, and we'll handle the rest.
We created this resource to help you figure out the best way to deal with your wrecked vehicle. If you have any questions, feel free to call us at 866.443.8530 and talk to us. Our team will be happy to assist you with your situation.
Our expert evaluators can help you get an accurate estimate for your cars value, FAST!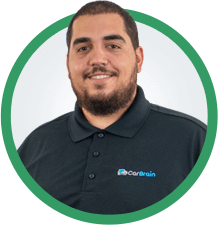 What Are My Options for Dealing With A Wrecked Car
Each case is different and depending on your needs and situation you should consider various scenarios that may benefit you the most.
How To Sell A Wrecked Car
When you are getting quotes for the salvage value of your car, you generally want to figure out how to sell a salvage car for the best price possible. This typically involves getting quotes from different types of buyers:
Junkyards — When looking for places that buy wrecked vehicles near you, local junkyards are the common choice. They will accept vehicles in virtually any condition. They purchase them quickly, but they make their profit by buying low and reselling the usable parts.
Dealerships — Any dealership that accepts cars "as is" will purchase your wrecked vehicle. However, dealerships usually won't trade wrecked cars for cash. The money offered is likely credit to be applied to buying another vehicle from them. Additionally, they specialize in roadworthy cars, so a wrecked vehicle that can't run is likely to get lowballed.
Private Buyers — Private buyers aren't restricted by pricing or any condition constraints. If your model is popular and in demand, someone will want it. Finding that person, however, can be a massive hassle; vetting serious candidates and haggling being chief amongst the most annoying portions of the process.
Online Dealerships — Companies like CarMax and Carvana have taken advantage of the internet and made selling a car that's been wrecked online a possibility. Keep in mind, these places still specialize in cars that can be resold quickly. A wrecked vehicle isn't their ideal purchase, so they won't be paying top dollar for it.
In all these situations though, you will likely get a low offer. If you still owe any money on your vehicle, your goal should be to sell it for as much as possible so you can pay off your remaining loan faster.
CarBrain can offer you an instant fair market quote online in a matter of seconds. Our quotes are guaranteed for seven days, so you have time to think it over before completing the sale. Additionally, there are no fees whatsoever for using our service and no last-minute haggling or negotiations.
Why Selling Your Vehicle With CarBrain Might Make More Sense
As a company, we've been in the business of dealing with damaged vehicles for over a decade. We've seen more than a million cars with all sorts of problems come through our systems.
This is what we do. We're highly skilled and dedicated to helping people such as yourself deal with less-than-perfect cars.
At CarBrain, we believe in putting YOU first. We push our people for excellence when dealing with customers. Even if we can't buy your vehicle, we'll provide resources and tips to help you in whatever situation you may find yourself in.
When you deal with CarBrain, you're dealing with a company that is trusted and respected nationwide. We have thousands of positive reviews all over the net from helping thousands of people every single month who are in situations just like yours.
Alternative Ways to Getting Cash for Your Wrecked Vehicle
Should I Fix or Sell My Wrecked Vehicle?
If it's a high-end model. If the damage is light. If your vehicle was purchased recently. If the value of your damaged vehicle is significantly more than the cost of fixing it.
For example, if your car is a bit old and high in mileage. In this case, repairing your car might probably cost more than its current value. Without taking into account additional costs of maintaining an older vehicle.
Once cars start approaching or exceed the 100,00 mile mark — wear and tear starts to become an issue and costs can quickly accumulate. If your vehicle is in this situation, it might not make sense to repair the damage, either.
Fortunately, there are plenty of buyers of damaged cars who will take your car. From big self-service yards to solo shops — there's a whole world out there of people who'd be glad to buy your vehicle.
You can find them online through services like The Facebook Marketplace, OfferUp, or Craigslist. However, finding a buyer who gives you the price that you want may be difficult. This is also true if you're not entirely sure what the market value of your vehicle is in its current condition.
Sell it for Parts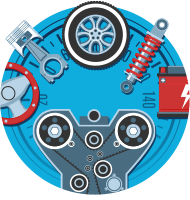 Another thing that you can do is to extract the most valuable parts of the vehicle and try to sell them individually. For example:
If these parts on your car have remained intact, it's sometimes possible to get more money for the individual components of the vehicle rather than the whole thing.
But this takes time. Months. And you might be in a rush. You need to get cash for your damaged vehicle now so that you can get yourself another Point A to Point B car.
Buy Your Wrecked Car Back from Your Insurance & Sell it
If you want to get a second check for your total loss car, you can buy back the vehicle from your insurance company and start shopping around for quotes. In most states, you are allowed to retain a salvage vehicle and sell a salvage vehicle.
However, this only applies if you have insurance, they cover your specific situation, and your vehicle is declared a total loss.
If this is the case, finding a private buyer after retaining your totaled car would allow you to get some more money from your unfortunate situation.
Step 1: Contact
The first step towards keeping your totaled car is to contact your insurance company. Let them know that you want to keep the car. In most states, they will transfer the title over to you as a salvage title.
Step 2: Get Paid
You will still be paid by your insurance company if you ask to keep the car after a wreck. In addition to subtracting your deductible from the check, the insurance company will also deduct how much they expected to profit from the vehicle if it sold at auction, which is typically between $300 and $500
Step 3: Get Paid Again
Once you receive the check and the vehicle's title from your insurance company, you can begin looking for places to sell your wrecked car.
Private buyers like CarBrain.com can provide you the financial relief you need in these types of scenarios. Unlike solo shops and parting out your vehicle - getting a cash offer for the fair market value of your vehicle takes just a few clicks.
We'll connect you with businesses who buy wrecked vehicles, autos with light damaged, trashed or crashed truck buyers and salvage yards in your area lightning fast. Wondering who buys wrecked trucks, cars and SUVs? CarBrain can help you find the right buyers.
Additionally, there's no need to bring your car anywhere. We'll come to your home or office within 24-48 hours — we always provide free wrecked car pickup with our offers. You'll receive payment and pickup for your vehicle on the spot when we come to you.
No need to deal with dozens of people coming by your place to check your car out. No need to hire specialized mechanics to extract parts from your car. All it takes to get your quote is 90 seconds, and we'll handle the rest. But how will CarBrain value your wrecked vehicle?
How Much is My Wrecked Car Worth?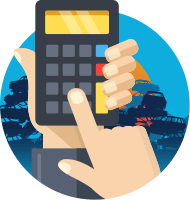 Once your vehicle has been wrecked and declared totaled by your insurance company, it qualifies as salvage. After keeping your wrecked vehicle, your next step is figuring out exactly how much it's worth and how you can get the most money for your wrecked car.
How to Calculate the Salvage Value of Your Car
Fortunately, the actual math for determining salvage car prices is pretty straightforward.
For all vehicles, depreciation will proceed at a predictable rate for the lifetime of the car. That means a vehicle you purchased off the lot for $20,000 might be worth as little as $5,000 after five or seven years of regular use.
For salvage vehicles, however, you also have to factor in additional wear and tear, which can include everything from fender benders to major accidents. These events will drastically lower the value of your vehicle.
A car's salvage value trends much lower than its used car value, especially if it's no longer roadworthy.
Add retail and wholesale value together, then divide that number by two in order to find your car's current market value.

Find out what percentage of the market value your insurance company uses to determine salvage value. While there is variation, it's typically 75% of market value.

Subtract .75 (or whatever percentage your insurance company uses) from 1

Multiply your car's current market value by (0.25).
How Much Do Wrecked Cars Sell For?
Salvage title value, if a car has not been repaired after a major accident, will only be worth 10%-50% of an equivalent used car's value.
Even if you decide to pay out of pocket for major repairs (or insurance pays for them), you're still only likely to receive about 70% of the value of a used car that was never damaged.
There are a number of factors that we use to assess the value of your wrecked vehicle. From its year, make, model, and mileage onwards to its trim, accessories, and currency condition. With a few high quality images, we should be able to accurately assess the severity of the damage.
Once we have a good understanding of the condition of your car, we then analyze the local market to arrive at our final offer.
This is why we say that we provide the fair market value. Because our offers are specifically tailored to the current conditions of your vehicle and the demand for it in your local markets. It's the value that your vehicle would sell at any given location if you were to take it there.
So you're getting the convenience of getting your offer fully online in just 90 seconds. As well as FREE towing, wherever you may be. We handle the entire process on our end.
What Types of Wrecked Vehicles Does CarBrain Buy?
The Benefits of Using CarBrain
When determining who buys damaged cars, CarBrain is the answer to your question! With nearly 20 years of experience, we have crafted the perfect place where you can sell a damaged car, whether it's slightly banged up or you need to sell a completely wrecked car.
Pick-up wrecked vehicles within 24-48 hours.

Zero towing fees.

Zero title transfer fees.

No last minute negotiations or haggling.

Hassle-Free!
We buy wrecked cars while keeping our customer's comfort at the forefront of our mind!
How Can I Get the Best Possible Offer from CarBrain?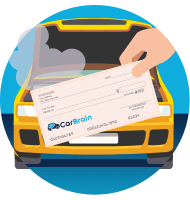 CarBrain is the ideal "final home" for vehicles near the end of their road-life. Our top-tier customer service representatives make the entire process as easy as 1-2-3:
Get your free quote! Simply enter some basic information about your car on our website and you'll receive a free and guaranteed quote within 90 seconds.

Towing is complementary, so you'll never have to worry about hidden or additional fees taking away from the profits you take home.

Schedule your pickup within 24-48 hours! If you're happy with your quote, you'll be able to schedule your vehicle retrieval with one of our partners within your area. They're trusted to come to you at a time that works best for you.

Complete your sale! After a quick inspection and transferring of your title, you'll receive the amount you were quoted, no haggling or fuss. Your vehicle is taken off your hands and money is put in them!
Contact CarBrain today and sell your car quickly without leaving the comfort of your own home!
Hablamos Español, y le ayudamos a usted vender su carro rápidamente.
---