How Selling Your Damaged Vehicle With CarBrain Works
Enter Your Car's Information
To get started, tell us what your car is like. What is its Year, Make, Model, Trim (if applicable), and other such information. If you have your VIN handy, it could speed up the entire process. We just need to identify your vehicle and its current condition.
Get Your Offer & Look it Over
After filling out our quick online form, you'll receive your offer. Assuming that all the information entered in our system is correct, this offer will not be subject to change and will remain constant for 7 days. You have all 7 days to consider and evaluate whether it is the right price for you.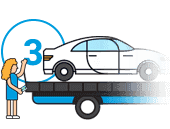 Schedule Payment & Pickup
The last step is the fun step — getting paid! All you have to do is coordinate a time and date for pickup to happen. You don't have to worry about taking your car anywhere or paying for anything. We'll cover all towing and transfer fees. Just show up, receive your check, hand over the keys & title, and you're done.
Junk Cars That CarBrain Has Purchased In The Past
What Can You Do if You Have A Wrecked Vehicle?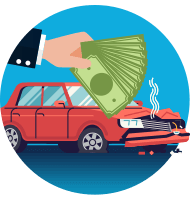 Car accidents happen unexpectedly and instantly cause major havoc on your life. While the health of those involved in the wreck is the most important thing to worry about, getting stuck with a non-drivable car can create additional stress and headache.
Regardless of what condition your car is in, or the severity of the damage — CarBrain.com will give you a fair-market value offer in just 90 seconds. All it takes is answering a few basic questions, uploading some pictures, and we'll handle the rest.
We created this resource to help you figure out the best way to deal with your wrecked vehicle. If you have any questions, feel free to call us at 877.877.7911 and talk to us. Our team will be happy to assist you with your situation.
Why is CarBrain the Best Option for Selling A Crashed Car?
Are You Getting Rid Of Your Junk Car? Obtain A Quote Now.
Receiving your fair market appraisal necessitates nothing more than listing basic details about the condition of your car. It takes just a couple of seconds! We will come to you to take your car for FREE wherever you are, across the nation.
What Are My Options for Dealing With A Wrecked
Each case is different and depending on your needs and situation you should consider various scenarios that may benefit you the most.

If you were at fault and don't have full coverage the most convenient way to get a fair-market value for your totaled car is to sell your car to CarBrain.

With CarBrain, you get the convenience of having someone come directly to you at absolutely zero cost. Everything from getting an offer to getting your vehicle picked up happens quickly and it's free of charge.

Our service lets you get an offer for your car in 90 seconds. We'll quickly compare prices in your area to figure out what your car is worth. If you like the price, we can tow your car and pay you for it in less than two business days.
Why Selling Your Vehicle With CarBrain Might Make More Sense
As a company, we've been in the business of dealing with damaged vehicles for over a decade. We've seen more than a million cars with all sorts of problems come through our systems. This is what we do. We're highly skilled and dedicated to helping people such as yourself deal with less-than-perfect cars.
At CarBrain, we believe in putting YOU first. We push our people for excellence when dealing with customers. Even if we can't buy your vehicle, we'll provide resources and tips to help you in whatever situation you may find yourself in.
When you deal with CarBrain, you're dealing with a company that is trusted and respected nationwide. We have thousands of positive reviews all over the net from helping thousands of people every single month who are in situations just like yours.
Alternative Ways to Getting Cash for Your Wrecked Vehicle
Should I Fix or Sell My Wrecked Vehicle?
If it's a high-end model. If the damage is light. If your vehicle was purchased recently. If the value of your damaged vehicle is significantly more than the cost of fixing it.
For example, if your car is a bit old and high in mileage. In this case, repairing your car might probably cost more than its current value. Without taking into account additional costs of maintaining an older vehicle.
Once cars start approaching or exceed the 100,00 mile mark — wear and tear starts to become an issue and costs can quickly accumulate. If your vehicle is in this situation, it might not make sense to repair the damage, either.
Fortunately, there are plenty of buyers of damaged cars who will take your car. From big self-service yards to solo shops — there's a whole world out there of people who'd be glad to buy your vehicle.
You can find them online through services like The Facebook Marketplace, OfferUp, or Craigslist. However, finding a buyer who gives you the price that you want may be difficult. This is also true if you're not entirely sure what the market value of your vehicle is in its current condition.
Sell it for Parts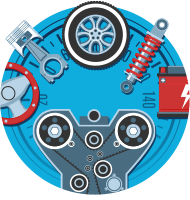 Another thing that you can do is to extract the most valuable parts of the vehicle and try to sell them individually. For example:
If these parts on your car have remained intact, it's sometimes possible to get more money for the individual components of the vehicle rather than the whole thing.
But this takes time. Months. And you might be in a rush. You need to get cash for your damaged vehicle now so that you can get yourself another Point A to Point B car.
Buy it Back From Your Insurance & Sell It
Another option you have in these types of situations is to retain your vehicle when it's been totaled, then selling it for additional cash to a private buyer. However, this only applies if you have insurance, they cover your specific situation, and your vehicle is declared a total loss.
If this is the case, finding a private buyer after retaining your totaled car would allow you to get some more money from your unfortunate situation.
Private buyers like CarBrain.com can provide you the financial relief you need in these types of scenarios. Unlike solo shops and parting out your vehicle - getting a cash offer for the fair market value of your vehicle takes just a few clicks.
We'll connect you with businesses who buy wrecked vehicles, autos with light damaged, trashed or crashed truck buyers and salvage yards in your area lightning fast. Wondering who buys wrecked trucks, cars and SUVs? CarBrain can help you find the right buyers.
Additionally, there's no need to bring your car anywhere. We'll come to your home or office within 24-48 hours — we always provide free wrecked car pickup with our offers. You'll receive payment and pickup for your vehicle on the spot when we come to you.
No need to deal with dozens of people coming by your place to check your car out. No need to hire specialized mechanics to extract parts from your car. All it takes to get your quote is 90 seconds, and we'll handle the rest. But how will CarBrain value your wrecked vehicle?
How Much is My Wrecked Car Worth?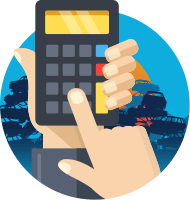 There's a number of factors that we use to assess the value of your car as-is.
For example, first, we look at the basics of the vehicle. The Year, Make, Model, Trim, and Mileage. After that, we need to consider the current condition of the vehicle. Since this is a wrecked car, we need to examine the images you provided clearly.
If you submitted high-quality images of the damaged areas, we should be able to accurately assess the severity of the damage. Once we have a good understanding of the condition of your car, we then analyze the local market to arrive at our final offer.
This is why we say that we provide the fair market value. Because our offers are specifically tailored to the current conditions of your vehicle and the demand for it in your local markets. It's the value that your vehicle would sell at any given location if you were to take it there.
So you're getting the convenience of getting your offer fully online in just 90 seconds. As well as FREE towing, wherever you may be. We handle the entire process on our end.
What Types of Wrecked Vehicles Does CarBrain Buy?
The Benefits of Using CarBrain
We typically pick up vehicles within 24-48 hours of you accepting our final offer. If there are situations where you may be accumulating fees, speak with your dedicated Account Manager to let them know of your situation. While we cannot guarantee towing within 24 hours, we can try to move quickly to help you as best as we can.
There are absolutely zero fees associated with selling your car to CarBrain. Regardless of what part of the country you are in or which condition your vehicle is in. Our service is free of cost at every step. Whether that's getting your offer, towing, or transfer of ownership - we got it all covered for you.
Our mission is to get to you within 24-48 business hours. You will receive payment on the spot for the final offer. There will be no last-minute changes nor will the driver try to negotiate with you. You simply hand over the keys & titles, receive your check, and they will drive off.
How Can I Get the Best Possible Offer from CarBrain?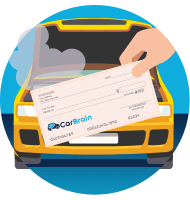 There are a few simple steps to getting the most accurate possible offer for your vehicle on CarBrain.com.
The quickest way for us to identify for your vehicle is by your Vehicle Identification Number (VIN). We refer to this as the "Fast Lane" inside of our price engine. If you'd prefer to enter the details of your car by hand, you have that option, also.
Once your vehicle has been identified, we need to know precisely what its current condition is. You have two ways of providing these details.
One way is by submitting detailed descriptions of your car. You should provide as much context and descriptions of:
Mechanical condition - is the vehicle good for daily driving? Have you had any issues as of late? Anything else we should be aware of from that standpoint?

Collision damage - Where is the damage located? How large is the impacted area? Are you able to provide images of this area?
The more details and information that you can enter regarding both the condition and damaged parts of your vehicle, the more accurate that our offer will be.
And the last point is to take high-quality images of your car. They don't have to be vetted by professional photographers, but they do need to show the damaged areas in detail. We use this information to accurately assess the damage and the degree of severity.
If you're able to accurately provide this information and high-quality images of your vehicle, our evaluators should be able to offer you a quote that reflects the actual current condition of your damaged car.
Hablamos Espanol, y te ayudamos vender tu carro en tu
---
Helpful Questions & Answers About Selling Your Crashed Vehicle
Who Buys Wrecked Cars Near Me?
If you're looking for wrecked car buyers near you, the best place to start is to look at local junkyards and salvage yards. They're most likely to make an offer for your vehicle and pay cash for wrecked cars.
However, not all junkyards are worth selling to, particularly if there's a chance that your vehicle can be rebuilt and resold by an experienced mechanic. You may be lowballed for your vehicle, or you may not get a guaranteed offer till you bring your vehicle to the lot, at which point you'd have to pay more to take it elsewhere.
The best way to find out what your wrecked car is worth without the hassle and ensure that you get a fair market price for it is to get an offer with CarBrain. It only takes 90 seconds, and our quotes are guaranteed when you provide photos and the Vehicle Identification Number! We also include FREE wrecked car pickup with all our offers, so you never have to worry about towing.
Where Can I Sell My Wrecked Car Near Me?
You can find places that buy wrecked cars easily by looking up local scrap yards, salvage yards and junkyards in your area. From accident-damaged cars to trucks, vans and SUVs with body damage or frame damage, junkyards are often willing to buy any wrecked cars for cash.
On the other hand, if you're looking to get the best price possible for your auto, there is a faster and easier solution. Using a service like CarBrain can help you get an offer for your car in just 90 seconds, allowing you to learn what your car is worth without spending hours on the phone or requiring an in-person appraisal.
How Much Can I Get For My Wrecked Car?
The amount you can get from places that buy wrecked cars near you depends on a variety of factors, including the condition of your car. You could receive anywhere from a few hundred dollars to more than $1,000.
How Can I Get The Most Money For My Wrecked Car?
If you're trying to sell a wrecked car for cash, the best tip for how to get top dollar for a wrecked car is to use a service like CarBrain. Rather than working merely with junkyards or salvage yards, we work with a variety of businesses in your area. That means we can find the buyer near you willing to pay the most money for your vehicle, whether you want to sell your wrecked truck or get an offer for your totaled sedan.
How Do I Sell A Wrecked Car?
Typically, the steps for selling a wrecked car for salvage include: calling local junkyards in your area, describing your vehicle, getting a tentative quote, arranging to transport your vehicle to the yard and then getting paid when you get there.
CarBrain makes it easier. We include free wrecked car pick up with our offers, and we can guarantee our quotes without an in-person inspection. You'll get paid when we come to pick up the car — no delay and no fuss!