How To Decide If A Car Is Worth Fixing
Is it worthwhile to fix your car, or is it time to sell it and get a replacement? Making the decision to sell or keep your car can be complicated.
The right choice depends on a variety of factors, including:
How much is the vehicle currently worth?

How much would it cost to repair the vehicle?

How long will it take to repair the vehicle?

How much money have you spent repairing the vehicle?

How reliable is the vehicle usually?

How attached are you to the vehicle?

Will the vehicle still be safe to drive after repairs?
It's important to consider all the factors listed above before deciding whether to fix or sell a car.
Keep in mind that when determining how much it will cost to repair the vehicle, you should get quotes from multiple different mechanics. Labor costs can vary between shops.
Additionally, don't forget to look at reviews for different mechanics. Some places may make a habit of drumming up additional and unnecessary charges.
Others may charge cheap prices in exchange for poor labor. If you're going to pay for car repairs, you should do it the right way.
Is It Worth Fixing An Old Car?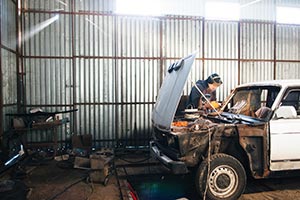 Old cars accumulate a lot of wear and tear over the years.
It can be difficult to decide when to junk a vehicle that doesn't have any major problems and could theoretically still drive well if you invest time in repairs.
The reality is, the older a vehicle gets, the more work it will do. Some people may believe that when you have a vehicle and you replace all the key parts in it, it can keep going forever.
This isn't true, and you may be spending money on a junk car.
Even if you completely replace the engine of an old vehicle, you still haven't addressed the likely rust accumulating in an old frame.
There could be countless wires beginning to degrade, and chances are there are other hidden parts close to failing. Additionally, older vehicles lack key safety features present in newer cars.
The older a car is, the lower its value. Typically, when deciding whether a repair is worthwhile, you should consider the value of the car versus the cost of repairs.
A handy rule of thumb is that if the cost of repairing a car costs 50 percent of its value or more, you should consider selling it. If the cost exceeds 100 percent of the car's value, definitely sell it.
Our expert evaluators can help you get an accurate estimate for your car's value, FAST!
Is It Worth Fixing A Car After An Accident?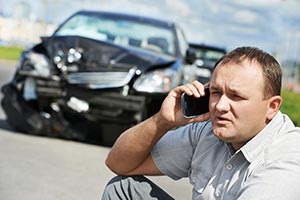 After an accident, there may be some frame damage or mechanical damage to your car. In some cases, these repairs are fixable and relatively minor.
However, if you have a totaled car, you might face some serious repairs.
This could include welding and fixing the frame or replacing key parts of the engine. After a serious accident, you must consider whether fixing the car will leave you with a safe vehicle.
If a vehicle is declared totaled, there's a possibility that it will still be dangerous to drive even after fixing it.
Cars are designed with key points designed to crush strategically in an accident. Stress points are engineered to avoid collapsing into the vehicle, protecting the driver and passengers inside.
After an accident, a vehicle may not respond to future accidents the way it was designed to. That means future accidents, even minor accidents, could be fatal.
When considering whether to fix a car after an accident, you should consider not just if a repair is affordable but if it is advisable.
If a car still won't be safe after you spend hundreds or thousands of dollars on repair, it's not a good idea to fix it. Instead, you can sell it for an easy payment!
Why Sell Your Car To CarBrain?
CarBrain has been the market for less-than-perfect cars for over a decade. We know how to determine a fair market value for your vehicle.
Our form lets you get a quick quote in under 90 seconds. If you like our price, we can pick up your car and pay you in under 48 business hours.
All CarBrain offers include FREE towing and FREE title transfer. There are never any hidden fees or charges for using our service.
We guarantee our offers for seven days, giving you time to think it over. Additionally, we issue offers you can rely on. There's no "bait and switch" — the offer you accept is the amount you'll get paid when we pick up the car.
Selling your vehicle online to CarBrain is the safe, easy and modern way to get rid of a car you don't want to fix.
We buy damaged cars, totaled cars, non-running cars and more. We'll even make offers on vans and trucks. When you want to get rid of a car with problems, CarBrain is the right solution.
How To Sell A Car To CarBrain
Selling your car to CarBrain is easy. All you have to do is:
Click "get an offer."

Fill out the form.

Get your quote.
You can get a fast and guaranteed offer by uploading current photos of your car and its VIN. Once you accept our offer, we'll schedule a free pickup at a time that works for you.
The tow truck driver will arrive with a check in hand. All you have to do is hand the driver the title and your car keys. You'll be paid on the spot — it's that easy!
Get an offer from CarBrain today and find out how much you can get paid for your damaged car.