Should I Sell My Car For Parts?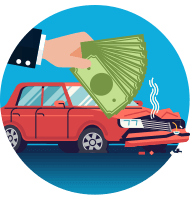 If you have a car with problems on your hands, you might be thinking about selling it for parts. At CarBrain, we know how to provide you with fair prices for your car and its parts without the hassle.
At CarBrain, we bring transparency, reliability, honesty and ease of use to our clients. Our goal is to educate damaged car sellers about the value of their vehicles and provide a smooth, hassle-free experience of selling them. You can get an offer, sell your car and get paid in a matter of days with our client-first service.
Our expert evaluators can help you get an accurate estimate for your cars value, FAST!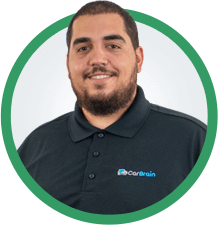 We invite you to read through this resource page. If you have specific questions, feel free to call us at 877.877.7911 and talk to us. We will be happy to give you our fair-market evaluation of your damaged car.
Selling A Parts Car? Get A Quote Now.
Receiving your fair market appraisal necessitates nothing more than listing basic details about the condition of your car. It takes just a couple of seconds! We will come to you to take your car for FREE wherever you are, across the nation.
Is It A Good Idea To Sell My Car For Parts?
If you have a late model car that has been in a car accident or has engine problems, you may be facing exorbitant repair costs. When the cost of repairs outweighs the value of your vehicle, you might consider selling the individual parts of your car.
Dismantling your car requires a lot of knowledge and effort. Unless you're a trained mechanic with a specialized garage, parting out your vehicle might make your car problems worse. You could end up damaging valuable parts as you disassemble them, decreasing their overall value!
There are only a few parts in your vehicle that command great demand: the engine, the transmission and the catalytic converter. Once you pull those parts out and sell them, the rest of your vehicle may be sitting in your driveway indefinitely.
How Much Can You Get Selling A Car For Parts?
How much you can get for your car depends on its current condition and what kind of car it is. Certain vehicles' parts are more valuable than others, but a mid-range vehicle with parts in good condition might get a better offer than a high-end car with damaged parts.
Prices on cars for parts can range from a few hundred dollars to thousands of dollars. The best way to find out what your car is worth is to get an offer. Our smart price engine can help you generate an instant quote for your vehicle in just 90 seconds.
On average, this is how much you can sell these parts for if they are already removed:
Engine - $500+ (Mileage dependent)

Transmission - $250+ (Mileage dependent

Airbags - $150+ (Depending on which bag)

Seats - $80+ (Seat conditions may vary price
Parting Out A Car vs. Selling It Whole
You have a few options for selling your car parts. Parting out your car comes with several benefits and detriments. The primary benefit being that selling your car parts can generate a hefty amount of money.
However, offsetting that benefit are the drawbacks. Parting out your car is time consuming to do and there's zero guarantee for when you will sell those parts. They'll take up space for months or even years as you haggle with every prospective buyer that shows some interest.
In the end, you may be required to sell the entire vehicle. A partially disassembled vehicle will sell for less than a vehicle with all its parts.
Selling your car as a complete unit is faster and easier. You can get paid for the whole vehicle, save time on labor and advertising, and avoid accidentally damaging parts of your car by trying to disassemble it without the right experience.
Should I Repair My Car Before Selling It?
There's likely no point in repairing a broken vehicle before selling it. The cost of a total repair is likely greater than the total value of the vehicle, eating up any profit to be made from its sale.
Some minor and affordable repairs may increase the value of your car if you can complete them yourself, but if you need to bring the car to a mechanic, the cost of labor will typically wipe out any potential profits.
If your car has serious problems, chances are they have permanently affected the vehicle's value. Damages that could negatively impact your vehicle's value are:
Collision

Rust

Falling Objects

Inclement Weather
Trying to repair your car before selling it will generally be a waste of time and money. Instead, you should try to sell it as-is for its current market value.
How "Sell Your Car For Parts" CarBrain Program Works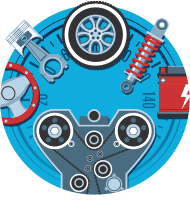 Selling your junk car to CarBrain is fast and easy. All you have to do is click "get offer" to receive a quote for your vehicle. You can fill out the form and get a quote in under 90 seconds. If you like the offer, you can contact our buyers to schedule a pickup time for your vehicle.
Not quite ready to sell? That's okay. CarBrain offers are guaranteed for seven days, so you have time to think it over. When you're ready, you can reach back out to us to begin scheduling your pickup.
We'll offer you a fair market price for your vehicle. There are no hidden charges, no hidden fees, no haggle and no fuss. Selling to CarBrain is the modern, safe and simple way to sell your junk car fast. Why wait? Get started today.
Why Selling To CarBrain Is The Smartest Choice
At CarBrain, we offer fair market prices for your vehicle no matter what condition it's in. Unlike a lot of junkyards, scrap yards and competitors, we don't just take the scrap metal value of your vehicle into account. We'll also consider its year, make, model, trim and any repairs and upgrades you've made to it.

When you submit photos and a VIN, we provide a guaranteed quote. You won't get a bait and switch offer when we pick up your vehicle. Additionally, we guarantee FREE pickup and FREE title transfer with our offers, which means there are no hidden charges or fees.

When you sell with CarBrain, you can schedule a pickup in under 48 hours from the point that you accept our offer. The tow truck driver will arrive with a check in hand to pay you on the spot. You don't have to leave your home. It's that simple.

If you care about recycling and protecting the environment, CarBrain can help you recycle your car properly. Rather than ending up in a landfill, your car's parts will be properly recycled and reused in other vehicles.

When necessary, some metals can be melted down and reused, like aluminum, platinum and steel. This means that less new steel has to be produced, lowering the overall amount of emissions created by steel manufacturers. Your car will get a better home, and you can feel better about your role!
The CarBrain Advantage

CarBrain has been in the damaged car industry for 13 years. We have an experienced team of car evaluators who can determine a fair price for your car fast. There's no shoddy estimations or generic prices based on car size — we always look at the complete picture to determine what your car is worth.

At CarBrain, we value making the damaged car-selling experience as smooth as possible. That's why we've created an easy-to-complete, straightforward price engine. It takes just 90 seconds to fill it out and get an offer for your car.

Got any questions? Our professional team of associate buyers can address your concerns and walk you through the process of selling your car to us, from getting a duplicate title in your state when necessary to transferring ownership of the car. You can get help by phone, text, email or instant messenger — we're ready to help you.

Our company values transparency, honesty and reliability. We work with a reliable, highly-vetted network of partners nationwide to provide high-quality and speedy service. We come to you wherever you are at no cost to you, and there are never any fees for using CarBrain.

We want you to make the most informed decision possible when selling your car. If we can't make an offer on your vehicle for any reason, our team members can help you identify your next best option for getting cash for your car.
Types Of Cars CarBrain Buys
CarBrain specializes in buying damaged cars with all sorts of problems. We'll make an offer on the following vehicles:
Non-running cars

Cars with body damage

Vehicles with mechanical problems

Cars with blown engines

Accident-damaged cars

Totaled and wrecked cars

Salvage cars

Rebuilt cars

Old or high-mileage cars
We help sellers like you dispose of unwanted clunkers every day for fair market prices. Don't worry about your damaged car any longer — get an offer from CarBrain and start selling it today.