CarBrain Is a Top Junk Car Buyer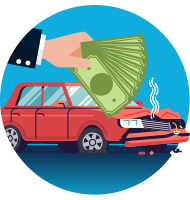 CarBrain has been the marketplace for less-than-perfect cars for over a decade. We have the experience and know-how to figure out exactly what your car is worth, pay you quickly and pick up your car in no time.
Our company works with an extensive, nationwide network of recyclers, junkyards and tow truck drivers to pick up vehicles in under 48 business hours. Towing is always free and there are never any fees for using our service.
Additionally, we guarantee no haggling and no last-minute negotiating with all our offers. The offer you accept is the payment you'll get when you describe your car accurately with our super smart price engine. We understand the position you are in and the need for a quick and efficient way to get rid of your unwanted car.
With cutting-edge technology, industry expertise and a dedicated team of excellent customer service representatives, we promise we'll make your junk car selling experience as smooth as possible. You don't have to waste your time trying to peddle your car to local buyers who may or may not give you a fair quote. Get an offer in just 90 seconds and find out what you can get for your car today.
Our expert evaluators can help you get an accurate estimate for your cars value, FAST!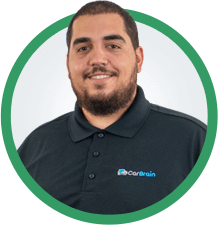 What Junk Cars Does CarBrain Buy?
At CarBrain, we specialize in less-than-perfect cars of all varieties. Here's a list of damage types we will accept in cars we buy:
Salvage cars

Junk cars

Rebuilt cars

Vehicles with mechanical damage

Vehicles with body damage

Old cars
We help sellers like you dispose of broken and unwanted vehicles for their actual values every day. Not all companies that buy junk cars will pay fair market prices for them. Skip haggling with junkyards — get a top-dollar offer with CarBrain and sell your car in days!
We Offer FREE Junk Car Removal Near You
At CarBrain, we're happy to offer FREE junk car pick-up — always. While many junkyards require you to bring your vehicle to the lot yourself or include towing at an additional cost, we know that your goal is to make money selling your junk car, not spend it, which is why we always offer free junk car pickup near you.
Free, fast and convenient junk car towing is included with all our offers, guaranteed. A member of our nationwide network of towing partners will schedule a pickup time with you after you accept an offer from CarBrain.
CarBrain prides itself on trustworthiness and reliability. For instance, although many people seek cash for scrap cars and same day scrap car pick up, we will always be upfront about how quickly we can pick up your vehicle. We will always tell you the fastest time someone can pick up your car.
All you need to complete the pickup is your signed car title and your car keys! Once the driver arrives at the designated location, hand them over and collect your paycheck. It's that easy to get scrap car removal near you with CarBrain!
How Junk Car Prices Are Calculated
There are a variety of factors that weigh in when attempting to sell your junk car:
Make & Model - If your vehicle's make and model is in high demand, then expect to net a greater junking it. If your car is a more recent model, then its components are considered more reliable and, in turn, more valuable.
Location - The scrap metal from a junk car isn't often processed at the scrap yard that purchases it. It has to be transported elsewhere and if that "elsewhere" happens to be far away, the junkyard will give you less money for your metal in order to offset the costs of increased transportation
This applies for transportation through hazardous environments as well. Snowy or mountainous terrain are just a couple of locations that can affect how your junk car is priced.
Vehicle's Age - Unfortunately the older the car is, the more it depreciates in value. While junkyards will price vehicles by their weight in tons, newer vehicles and their reusable components can fetch a higher price from other buyers.
Scrap Metal Prices -The exact dollar amount for a junk car depends on current scrap metal values, which can change throughout the year and depending on your location. It can be difficult to predict ahead of time what your vehicle is worth, but you can find out by requesting a quote.
For example, some oldies, like a 22-year-old sedan that doesn't start or run, won't get the same offer as others, like a low-mileage three-year-old sports car with collision damage. Some vehicles fall near the center of the spectrum, like a high-mileage ten-year-old SUV with electrical problems.
There are no "book" values for damaged, ugly or salvage cars, but at CarBrain, we have over 30 years of experience in buying less-than-perfect vehicles. We strive to provide the top price for junk cars to every customer.
What Do I Need to Junk My Car?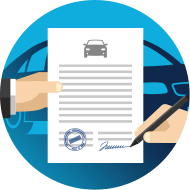 CarBrain is the ideal "final home" to sell your junk car to when it's at the end of its life. Our top-tier customer service representatives make the entire process as easy as 1-2-3:
Get your free quote! Simply enter some basic information about your car on our website and you'll receive a free and guaranteed quote within 90 seconds.

Towing is complementary, so you'll never have to worry about hidden or additional fees taking away from the profits you take home.

Schedule your pickup within 24-48 hours! If you're happy with your quote, you'll be able to schedule your vehicle retrieval with one of our partners within your area. They're trusted to come to you at a time that works best for you.

Complete your sale! After a quick inspection and transferring of your title, you'll receive the amount you were quoted, no haggling or fuss. Your vehicle is taken off your hands and money is put in them!
Contact CarBrain today and sell your car quickly without leaving the comfort of your own home!
---
"Cash For Junk Cars" Is It A Real Thing?
Yes. CarBrain really does offer "cash for cars" in less-than-perfect condition, including junk cars. Our team knows how to extract value from junk cars, allowing us to pay you a fair market price for your junk vehicle. You can even get $500 cash for your junk car near you depending on its condition!
Vehicle parts can be recycled and used in other vehicles, while the scrap metals like aluminum, steel and platinum in your vehicle can be melted down.
There are lots of places that buy junk cars. However, there aren't many places that buy junk cars for top dollar like CarBrain does. We know what your car is worth and we can help you get the best price for it fast.
Here's something to keep in mind: cash for cars is an industry term. While our offers are as good as cash, CarBrain pays with certified checks in order to protect both our drivers and our sellers. Using checks ensures that you get the full payment when the tow truck driver arrives to pick up your car.
My Junk Car Doesn't Drive, Can You Still Buy It?
Yes! CarBrain buys non-running cars every day. We're happy to buy your broken-down car, even if it can't turn on or doesn't drive.
To get the most accurate possible offer for your vehicle, make sure to describe its condition accurately when filling out our form. Mention if there's anything wrong with the engine system, and whether it can turn on or drive. This can help us ensure that there are no difficulties when pricing out your vehicle.
If My Junker Is Missing Parts Can I Still Sell It?
It depends on what parts are missing. CarBrain can make an offer on cars and trucks with some missing parts, engine problems, frame damage and more. You might be surprised at how much you can get for your junk car with missing parts!
However, we cannot buy cars missing the engine or the transmission. Additionally, all cars must have at least two tires for us to tow it.
Another important note: we do not buy individual auto parts. We can only make an offer on vehicles.
Scrap Car Price vs. Junk Car Price — Are Those The Same?
In general, there are some differences between scrap and junk car value. For instance, scrap typically relies on the weight of the metal to determine how much you'll get for your car.
However, junk car recyclers might also take into consideration the parts in the car, the make and model of the vehicle and its current condition.
At CarBrain, we always take a comprehensive look at your vehicle to determine how much it's worth. If you have a car in good condition, you can sell your junk car for $500 or more with CarBrain.
Our Junk Car Offers Are Confirmed. No Haggling. EVER.
Many junk car places offer estimates ahead of time, and then settle on a final price when they arrive to pick up the car, even if you thought the price was locked in. That means just when you think you're going to close the sale, you might get hit with last-minute negotiations! You might even end up accepting a lower price than you thought you'd get just to get the hassle over with.
At CarBrain, we strive to provide the most accurate offers possible. When you provide us with accurate information about your vehicle, we make a GUARANTEED offer that won't change. No last minute haggling, no last minute negotiations.
Keep in mind that you play an important role in the process when selling your damaged car online: you have to describe the car! Make sure you describe it as accurately as possible. Since we do not appraise vehicles in person, an accurate description can ensure the transaction is smooth and easy.
That's why CarBrain's tow truck drivers pay you in a business pre-printed check on the spot when they pick up your junk vehicle. You'll get the full amount you agreed on when we come to pick up the vehicle, guaranteed. There's no bait-and-switch — ever.
Hablamos español y te ayudaremos a vender tu carro de forma segura!