What Is A Car Worth With A Bad Transmission?
We can agree that a bad transmission is one surefire way to ruin your day. It's such an integral part to your car, that any malfunction with it is grounds for a headache.
Fortunately, CarBrain has made less-than-perfect cars our specialty since 2007. We've got the expertise to provide you with the value of your car with transmission problems.The entire process is a few simple steps, ensuring you get paid both QUICKLY and EASILY.
Below we've compiled resources on how to sell a car with a bad transmission in order for you to make the most informed decision for yourself!
Our expert evaluators can help you get an accurate estimate for your cars value, FAST!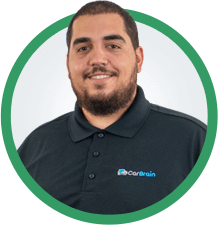 How Do I Know If My Transmission's Bad?
A broken transmission can be a major repair that comes with a chunky repair cost. That said, there are signs that your transmission is going bad that you can identify in order to get ahead of a full-on failure.
If you haven't taken your vehicle to a mechanic yet in order to determine if the issue is your transmission, here are several warning signs that could give you an early heads-up:
The gearshift is slow to respond, or doesn't respond at all.

Vehicle is shaking or jerking while running.

Car is emitting a burning smell.

You hear a strange humming or buzzing noise while you drive.

Gears slip unexpectedly while driving.

Car makes strange sounds when in neutral.
Should you identify any of these symptoms, then your next course of action should be to take your vehicle into a trusted mechanic's shop.
How Much Would It Cost To Replace A Transmission?
Replacing a transmission can be one of the costlier repairs to your car. It's a viable option if only a few components of the entire transmissions need replacing or, for instance, if the transmission fluid just needs replacing. That's a $5 to $15 cost.
Replacing your transmission altogether, however, averages about $2,800.
Total replacement ranges from $1,400 to $5,800 depending on its year/make/model.

If electronics are at fault for the slippage, the repair can cost about $800.

Rebuilding your transmission (instead of outright replacement) averages around $1400.
Unfortunately, transmissions are both vital to a car's function and expensive to maintain. Generally, a standard transmission should last between 150,000 and 200,000 miles without difficulty. However, some transmissions may break down early due to faulty manufacturing or user error.
Fixing your transmission is necessary if you intend to continue driving your car. If you have no intent on driving it any further, however, then figuring out if you can sell a car that needs a new transmission is your next move.
Can You Sell A Car With A Bad Transmission?
If you're in the position where selling a car that needs a new transmission is your option, you can rest assured that you're completely capable of legally selling it.
Who Buys Cars With Transmission Problems?
The most common ways to sell a car with a broken transmission and get a cash offer are junkyards, dealerships, and private buyers.
Each of these options are interested in buying a car that needs a new transmission and have their pros and cons depending upon how quickly you're trying to sell your car, how much money you're trying to make, and how much hassle you're willing to put up with.
Junkyards — When looking for places that buy cars with broken transmissions near you, selling a damaged car to junkyards is a common option. They will accept vehicles in virtually any condition. They purchase them quickly, but they make their profit by buying low and reselling the usable parts.
Dealerships — Any dealership that accepts cars "as is" will allow you to trade in your car with a broken transmission. However, dealerships usually won't trade junk cars for cash. The money offered is likely credit to be applied to buying another vehicle from them. Additionally, they specialize in roadworthy cars, so a junk car that can't run is likely to get lowballed.
Private Buyers — Private buyers aren't restricted by pricing or any condition constraints. If your model is popular and in demand, someone will want it. Finding that person, however, can be a massive hassle; vetting serious candidates and haggling being chief amongst the most annoying portions of the process.
While these are the most common options for selling a car with a broken transmission, they might not be the best for you specifically. Depending on how quickly you want to get that car off your hands and how much money you're trying to walk away with, CarBrain may be the best option for you.
How To Sell A Car With A Bad Transmission To CarBrain
CarBrain is the ideal "final home" for vehicles near the end of their road-life. Like we said earlier, it's a simple process focused on being quick and easy for you. Our top-tier customer service representatives make the entire process as easy as 1-2-3:
Get your free quote! Simply enter some basic information about your car on our website and you'll receive a free and guaranteed quote within 90 seconds.

Towing is complementary, so you'll never have to worry about hidden or additional fees taking away from the profits you take home.

Schedule your pickup within 24-48 hours! If you're happy with your quote, you'll be able to schedule your vehicle retrieval with one of our partners within your area. They're trusted to come to you at a time that works best for you.

Complete your sale! After a quick inspection and transferring of your title, you'll receive the amount you were quoted, no haggling or fuss. Your vehicle is taken off your hands and money is put in them!
Contact CarBrain today and sell your car quickly without leaving the comfort of your own home!