How To Sell Your Car That Doesn't Run
Tell Us About Your Car
First, fill out our straightforward form with all the important details of your vehicle. The more information you provide, the more accurate our offer will be. Remember to include pictures of the damage as well as the car's VIN — this will make the process go smoothly!
Review And Accept The Offer
After you get the offer, you have seven days to review and accept it. Once you're ready to sell, reach out to our associate buyers and let them know. We'll help you schedule your FREE towing and title transfer at a time that's convenient for you.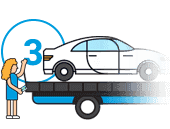 Schedule Pickup And Payment!
After you get the offer, you have seven days to review and accept it. Once you're ready to sell, reach out to our associate buyers and let them know. We'll help you schedule your FREE towing and title transfer at a time that's convenient for you.
Junk Cars That CarBrain Has Purchased In The Past
What Should I Do With My Non-Working Car?
A non-running car is dead weight in your driveway, but it could be cash in your hands. If you have an undrivable vehicle you're looking to get rid of, you can sell it for its fair market value and get paid.
CarBrain knows how to make that happen. We specialize in buying all kinds of vehicles in less-than-perfect condition, from totaled cars to vehicles that won't turn on. We've been purchasing damaged cars since 2007, and we're happy to buy yours too!
Here at CarBrain, we've put together this resource page to help answer your questions about what to do with your non-working car. Explore the options, learn what the benefits of CarBrain are and discover how easy it is to get an offer for your vehicle today!
Any questions? Feel free to call us at 877.877.7911 and learn how we can help. Our team will be happy to address any concerns and help you discover what your car is worth today!
Are You Getting Rid Of Your Junk Car? Obtain A Quote Now.
Receiving your fair market appraisal necessitates nothing more than listing basic details about the condition of your car. It takes just a couple of seconds! We will come to you to take your car for FREE wherever you are, across the nation.
My Car's Not Working — What Can I Do?
A non-running car can have any number of problems, and many of them can be quite complex to address. Some problems are easy — if your battery is dead, you can replace it and get your car in working order in a matter of hours.

Other problems, however, may signal that your car has reached the end of its lifespan. For instance, if your engine is busted, you may not be able to get the car to start at all. Here are some other potential reasons your car won't drive:

Your transmission's torque converter is worn

Your alternator has gone bad

You need a replacement starter

Depending on what's wrong with your car, it could cost several hundred to several thousand dollars to fix it. If you have an older vehicle, its value will have dropped over time, which means even expensive repair jobs won't help you bring up your car's fair market value.

If you're wondering what you can do if your vehicle is not working anymore, you're in luck. There are plenty of ways to sell a non-working car and get cash for it. Save yourself an expensive trip to the mechanic's — get a quote for your vehicle and get paid for it instead! Learn how to get cash for a car that doesn't work with CarBrain.
Who Will Buy My Non-Working Car?
If you want to make some cash off of your non-working car, there are plenty of ways you can sell it for a fair market price. The best option for you depends on your car knowledge, your personal circumstances, your financial situation and where the car is located.
If you want to sell a car as fast as possible because it's sitting somewhere you can't keep it, like a tow yard where it's accumulating fees every day, selling to CarBrain could be the fastest option available to you.
Selling to CarBrain is the easiest, safest and quickest option for getting rid of a non-running car and getting paid. It takes less than 90 seconds to get a quote from us. Additionally, if you supply photos and a VIN for the car, we can give you a guaranteed offer. As a bonus, our offers are guaranteed for seven days, so you have time to think it over.
We offer fair market prices for vehicles, taking into account its condition, year, make, model, trim and any upgrades and repairs you've made to the car. Additionally, our offers include FREE pickup and FREE title transfer. Finally, we can help you schedule your pickup in under 48 business hours.
How Much Can I Get For My Non-Working Car?
The value of a non-running car depends on a lot of factors, including its year, make, model, trim and what damage it has. For instance, if it requires a new engine or transmission, chances are the vehicle is only worth its weight in scrap metal for a lot of people. However, if it can get back up and running with a simpler fix, you may be able to get $1,000 to $10,000 or more for it!
The best way to find out what your vehicle is worth is to get quotes from lots of different sources. Accurately describe the damage and include photos and VINs when possible. That will let you know what your car is valued at.
CarBrain can help you determine what your undrivable car is worth in 90 seconds. There's absolutely no in-person appraisal required to get an estimate — all we need is a few details about your car to get started!
Types Of Cars We Buy
Here at CarBrain, we specialize in purchasing cars with problems, including cars that don't work. That includes:
Vehicles with engine problems

Non-running vehicles
We buy cars running or not! Get an offer for your non-working vehicle in just 90 seconds and start the process of getting paid. You'll have a check in your hands in under 48 business hours after accepting our offer! Doesn't that sound swell?
The CarBrain Advantage
When you want quality, reliability, convenience and speed, you want CarBrain. With over a decade of experience buying damaged cars, we know how to determine the actual cash value of your car lightning fast. We won't lowball you or lie to you about the value of your vehicle.
CarBrain has positive reviews all over the internet, from TrustPilot to Google and Facebook. Plus, we've got an A+ rating from the BBB. We're confident in the quality of our customer service — we've helped thousands of customers over the years, and we know we can help you too.
Our professional team of customer service representatives provide quality support to all our customers. When you get an offer from CarBrain, you get an associate buyer personally assigned to handle your car. Your associate buyer can walk you through the process of getting a duplicate title, transferring the car ownership, scheduling your pickup and more!
We know trust is important when it comes to selling a damaged car. All our offers are GUARANTEED for seven days when you accurately describe your vehicle. We issue payments by check, so you know you'll get the full amount when the driver arrives, and there's no last-minute negotiations.
At CarBrain, we believe in providing a client-first experience. Get an offer with us today and find out what makes us different.
---
How Can I Trade-in My Non-Running Car with CarBrain?

Selling your non-working car to CarBrain couldn't be easier. All you have to do to get started is click "get offer." Type in your car's information and details, including what's wrong with the car.

If possible, upload current photos of the vehicle demonstrating any damage it has, and provide us with the Vehicle Identification Number. This can help us get a better idea of what shape your car is in and learn more about the vehicle history, improving the accuracy of our quote!

Once you submit the form, it takes just 90 seconds to see what your car is worth! In a few cases, it may take us up to an hour to generate a custom quote for your unique vehicle. In that case, our associate buyers will call you to let you know what we're offering. We'll send the offer by email as well so you can review it.

If you like the offer you see, you can schedule your pickup time with our buyers. You can also wait a little longer and think it over before reaching out to us again. When the tow truck driver arrives, he or she will hand a check to you on the spot.

It's that easy! No hassle, no haggle, no fuss and no fees. CarBrain is the modern way to sell less-than-perfect vehicles. Why wait? Get started today.
What Are Other Options For My Non-Running Car?
It's true that CarBrain isn't the only place to sell your non-working vehicle. You can always try to trade it in at a dealership, get an offer from local junkyards or sell it to a car enthusiast in your area that wants to take it apart as a hobby.
However, there are some downsides to these options. For instance, dealerships don't specialize in cars with major problems, which means they'll typically give you a lower trade-in value than your car is typically worth. They often aren't willing to give you its actual cash value, since they aren't equipped to properly address major car problems and will consider it a favor to you to accept the car at all.
Junkyards may only pay you for the scrap metal value of your vehicle, rather than considering factors like its year, make and model that increase its true value. Most junkyards will specialize in melting down and scrapping the parts of your car that it can, so you won't get paid what your car is really worth.
Finally, you might be able to find a private buyer for your vehicle. If they recognize that the car you have is valuable, you may have a better chance of negotiating with the price.
However, it can be difficult to schedule times to allow potential buyers to come see your car. Even if you get to the point where you're ready to sell, you and the buyer will have to negotiate who covers the cost of towing the vehicle.
We don't mean to toot our own horns, but we think CarBrain is the clear winner when it comes to options for selling your non-working car. With free towing, guaranteed instant offers and quality customer service, our bids are head and shoulders above the rest.
---
Non-Working — Frequently Asked Questions
Is it legal to sell a vehicle that doesn't run?
Yes, you can sell a car that doesn't run. However, it is important not to misrepresent the condition your car is in. Let any potential buyers know that your vehicle cannot run, and describe the damage in detail when possible.
How much do I have to pay for towing if my vehicle's not working?
There are no fees whatsoever when you sell a car with CarBrain. Free towing is included in all our offers, so you never have to pay a dime to have it towed. Our partners will come to you wherever you are, pick up your vehicle and pay you on the spot.
How much is my non-running car worth?
Figuring out the value of your car that won't start requires a closer look at its year, make, model, mileage, condition, location and more. The actual cash value can range from under $1,000 to $10,000 or more depending on the vehicle. The best way to figure out exactly what your junk car is worth is to get an offer from CarBrain today!
My car's not starting. Who will buy my vehicle?
Lots of companies can buy a non-starting car, but CarBrain can make the process easy! We specialize in buying all kinds of damaged vehicles, including non-starting cars. We can make an offer in 90 seconds, tow your car for free in under 48 business hours and pay you on the spot when we pick up the car!
Another important note: we do not buy individual auto parts. We can only make an offer on vehicles.
Scrap Car Price vs. Junk Car Price — Are Those The Same?
In general, there are some differences between scrap and junk car value. For instance, scrap typically relies on the weight of the metal to determine how much you'll get for your car.
However, junk car recyclers might also take into consideration the parts in the car, the make and model of the vehicle and its current condition.
At CarBrain, we always take a comprehensive look at your vehicle to determine how much it's worth. If you have a car in good condition, you can sell your junk car for $500 or more with CarBrain.
Is Donation A Good Option For Getting Rid Of My Scrap Car?
Donation isn't always the best way to get rid of your scrap car, especially if the value of your vehicle is more than $500. For one thing, a tax write-off is how much you ca0n lower your total income when calculating your taxes, not a direct drop in the taxes you owe. For another, donations become calculated if your vehicle's value is more than $500, as you'll have to fill out more paperwork to claim the tax write-off.
Additionally, charities aren't always poised to extract the true value of your car, which means donating a vehicle can actually be a shockingly inefficient way to donate to a charity. A more efficient way would be to sell the car for cash and then donate the amount of cash you'd like to donate directly to the charity.
CarBrain can pay you for any junk car in under two days, making it easy to get your car's worth fast. There's no complicated paperwork, and you won't have to worry about losing out on the value of your car. Get an offer and get started today!