You've just driven off the lot with the car you've been saving to buy. Sure, it's used but you got such a great deal on it and it has less than 5,000 miles on it. It was a steal.
After a few days though, steering becomes more difficult as if the wheel is covered in molasses. After getting it fixed, the problem happens again. And again. And again. It seems as if this is an irreparable issue and has you wondering if that's why you got such a good deal on it.
In this case, you might have been sold a lemon. No, not the fruit, a lemon car. This a vehicle with a significant issue that can't be repaired. Selling a damaged car or a lemon without disclosure is illegal and you can take legal action against the seller.
Read below to learn about lemon cars, lemon laws, and what you can do if you are sold a damaged car.
Get an Instant Online Offer for Your Car!
Enter your zip code below to get your FREE estimate and see how much your damaged car is worth. You can get paid in 24-48 hours with free towing!
Lemon Cars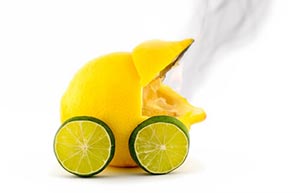 A lemon car can be either new or used. Legally, they are defined as vehicles with defects that are substantial and irreparable.
A new vehicle can come with defects that a manufacturer didn't notice. If the issue affects the safety of the car and cannot be fixed after a number of repair attempts, it is likely a lemon.
On the other hand, a used car can also be considered a lemon even if there is no manufacturing issue. In the case of a used car, things like previous accidents, floods, frame damage, or a salvage title will all qualify for a car to be a lemon if they were not disclosed by the seller and if they cause significant safety issues.
Lemon Laws
Lemon laws are in placed to protect buyers in the case that a product they buy has a substantial defect that cannot be repaired after a reasonable number of attempts. This law applies to virtually all manufactured goods in America but is most often used in the case of lemon cars.
Lemon laws vary slightly by state. For instance, in Florida, a "reasonable number of attempts" to remedy the defect is either three repair attempts of 30 calendar days out of service. However, residents of Michigan must make four attempts.
Drivers also have a limited time to request compensation from the vehicle manufacturer. This period also varies by state.
Under lemon laws, the manufacturer is required to either replace the damaged car or refund the driver if the defect cannot be fixed.
Your Legal Options
If you believe that you have been scammed by a dealer who has sold you a lemon car, you can file a lawsuit against them.
To start this process, you will have to contact your state's consumer protection agency and file a complaint. You will also need to hire an attorney. Specifically, you will need one that specializes in auto fraud. He or she will be able to address your specific situation and will understand the complexities of lemon laws.
How can I get a quote for my car instantly?
It's simple and it takes less than 90 seconds... click the button below to get started and find out how much your vehicle is worth!
Vehicle Pick-up is FREE Nationwide. No Haggle. No Fees. We are A+ rated business at BBB.
Downsides of Taking Legal Action
Although consumers are protected against lemons, it is not simple or easy to go through a lawsuit. Even if you and your lawyer do everything right, the dealer's or manufacturer's lawyers might make things difficult for you.
Moreover, your options for court proceedings, whether you choose arbitration or litigation can be confusing and time-consuming. Even if you do win, it can take a while to receive either a new vehicle or your refund.
Ultimately, it might not be worth filing a lawsuit against a dealer when there are other options.
Sell Your Car to CarBrain
Dealing with a lemon car can be hard work. Taking legal action against a dealership, even if you are likely to win can be costly and stressful. Fortunately, there is another way you can reclaim your money and get rid of your damaged car. The answer is CarBrain.com.
Instead of suffering through months of filing, meeting, and waiting for a lawsuit to go through, you can sell your lemon car in two days or less with CarBrain. After you accept our guaranteed offer, we will come and pick up your car at no cost to you.
Our process is incredibly simple. All you have to do is provide information about your car through our online form. In 90 seconds, we will analyze a variety of factors and give you the best price for your lemon car. We specialize in damaged cars so you don't have to worry about your car not working.
Don't spend any more time fretting over that lemon car of yours. Get a free quote from CarBrain.com today and be rid of your damaged vehicle in less than two days!