9/05/2017
11/14/2022
Need answers? Get FREE advice from our client care experts NOW!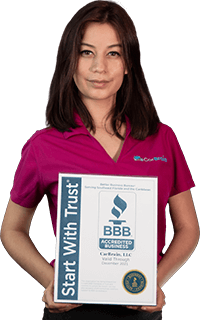 How Do I Junk My Vehicle In Ohio?
The speediest way to junk a salvage car in Ohio is to use CarBrain.com! Your cash estimate will be ready in no more than 2 minutes. We always come to you in less than 48 business hours and the sole thing you have to do is show up to get your check.
That's how swift and easy it is to junk your wrecked vehicle with CarBrain.
I'm Interested — How Do I Get An On-The-Spot Offer from CarBrain.com?
It's easy to get your instant offer! Click on our online form for requesting an offer to get started. The process is extremely quick and you will get your offer in 90 seconds in most cases (in a few instances, we may need up to an hour to generate the right custom quote).
Pro Tip: Be as accurate as possible. We stand by our offers as long as they truthfully represent the actual condition of vehicle sellers. Adding the vehicle identification number and uploading images can help you to get the best possible price for your vehicle.
All CarBrain quotes are valid for 7 days. After that, they expire. You can still sell us your car, but we'll have to make a new custom quote based on current market rates in Ohio.
My Car Is On The Side Of The Road. Can You Pick It Up From There?
Drivers cannot haul away vehicles left in a spot inaccessible to tow trucks or on the side of the road. If your car is in one of those locations, you should move it before contacting CarBrain.
You do not have to worry about finding a towing company. CarBrain has service providers in Ohio that help us buy and pick up vehicles for free. We will come to you in two business days after you accept our cash estimate.
What Will I Need To Provide To Complete The Process?
Most of the time, you'll need a certified copy of the title to sell us your vehicle. Your customer service representative can help you figure out precisely what documents are required to complete the sale. If your title is valid and in good condition, the sale should happen rather quickly without much friction.
The driver will come, hand over the check, tow the vehicle, and drive-off. And it's really that simple! You can learn how to transfer a title in Ohio <a href="https://carbrain.com/car-title-transfer/Ohio">here</a>.
What's My Scrap Vehicle's Worth In Ohio?
You can get money for your scrap car in any condition by selling it to buyers of junk vehicles. They can dependably recycle the vehicle to extract the metals and usable pieces inside. Vehicles have many recyclable materials including steel, aluminum, platinum and more!
How much you can get for the car depends on where the car is at the moment and size. Different steel mills across the country use different local market demand to price out recycled metals, and prices can vary based on national and even international trends. The best way to find out what your car could be worth in Ohio is to get an offer from CarBrain.