If you've looked into buying or selling your car online, chances are you've seen an advertisement for Carvana. Carvana's growing popularity stems from its ease of use for shoppers looking to get into a new vehicle quickly.
If you're considering Carvana to sell your car but not sure if it's right for you, it may help to better understand what exactly Carvana is and what types of vehicles sell best through their service.
Get an Instant Online Offer for Your Car!
Enter your zip code below to get your FREE estimate and see how much your damaged car is worth. You can get paid in 24-48 hours with free towing!
What Is Carvana?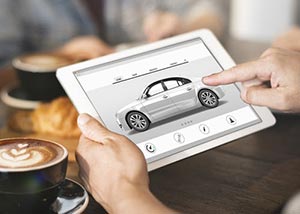 The best way to think of Carvana is like a huge, online dealership. They buy and sell cars, own the vehicles they buy, and can accept trade-ins. This streamlined, fully electronic buying process and an abundance of vehicles available to choose from have contributed to Carvana's growing popularity as car sellers. But are they the best option to sell your car?
To sell your car with Carvana, you upload your Vehicle Identification Number (VIN) and answer a series of questions about your car and any damage it may have sustained. Using the information you provide, Carvana calculates a quote for your vehicle that you have one week to accept. While the amount you're quoted is the amount you'll receive at pick up, your vehicle will be inspected upon purchase so it's best to be honest!
It's helpful to think about Carvana as a dealership when you consider selling your car with them. When dealerships (or Carvana) purchase cars or accept them as trade-ins, they then own those vehicles and have two choices of what to do with them.
Cars that are newer and in good working order will be resold on the used car lot or on Carvana's site. The less desirable models will be sold at auction, and don't result in much of a profit for the selling dealership. In either case, the dealership needs to make a profit off of your car, and so will offer you less up-front (particularly if it's in poor condition).
For those looking to trade-in a car that's new and in good shape, the convenience of having their old car picked up and a new car dropped off in its stead, Carvana can be a great place to sell your car. However, if you're looking for its full fair market value, Carvana may not be your best bet.
Does Carvana Buy Wrecked Cars?
If your car has been wrecked it's also worth noting that while Carvana does purchase vehicles with salvage or rebuilt titles, the car must be in running order in order to be sold. In fact, a representative from Carvana will test drive your car at the time of purchase. If you've got a junk car that won't leave without a tow, Carvana is unfortunately not an option.
Your location is also an important factor to keep in mind if you're looking to sell with Carvana. Your options, should you be within a close enough radius to a Carvana location, will be to have your car picked up or to drop it off yourself. Should you fall outside of this radius, the cost of towing will be on you.
CarBrain vs. Carvana: Selling A Car With Problems
If your car no longer runs, or you're just looking for a fair price despite its condition, don't be discouraged! Though Carvana may not be the best place to sell your car, it doesn't mean you have to sacrifice the convenience of selling online. In fact, CarBrain offers many of the exact same conveniences that make Carvana so appealing, while specializing in damaged cars.
CarBrain, at first glance, operates similarly to Carvana: A quick, online quote enables you to sell your car from the comfort of your home. However, there are particular differences between the two platforms that may make one more fit for you and your damaged car.
Carvana is a pseudo-online dealership specializing in used cars, namely in trade-ins and sales. This means their priority, when it comes to car buying, is used cars in good working order. These used cars will go on to make up their stock for drivers just like yourself to buy.
CarBrain, on the other hand, specializes in the purchasing of damaged cars. CarBrain's priority and specialty is the value in damaged vehicles, meaning we offer fair market value for cars even in extreme disrepair.
How can I get a quote for my car instantly?
It's simple and it takes less than 90 seconds... click the button below to get started and find out how much your vehicle is worth!
Vehicle Pick-up is FREE Nationwide. No Haggle. No Fees. We are A+ rated business at BBB.
CarBrain works by partnering you with buyers in your area. By facilitating your sale and finding a quote for you, CarBrain essentially saves you the time and trouble of calling every junkyard in town or searching online for a private salvage buyer interested in whatever you're selling.
An unfortunate truth of selling junk cars is that their bulky size and the expertise involved in handling them means many junk buyers scam and take advantage of their unassuming customers. CarBrain makes sure you get the best price and only do business with reputable purchasers.
When you're looking to upgrade to a new vehicle, Carvana presents a convenient trade-in opportunity. But, it's also important to consider that the more you make on the sale of your car, the more you have to put toward your new one!
Selling A Damaged Car With CarBrain
Getting a quote from CarBrain is easy. First, take a few photos of your car and write down its VIN. Next, upload those photos and VIN to CarBrain and wait 90 seconds. That's all! You'll receive a quote that's good for seven days, giving you time to prepare your vehicle, ask questions, or even shop for a new car!
Once you accept your free quote, you can schedule your pickup. Towing and title transfer are always covered by us, and towing is scheduled at your convenience. In fact, a driver can pick up your car within 24-48 hours if you're ready!
All you'll do when the tow truck arrives is sign over your title, hand over your keys, and take your check. Selling your car in under a week and for the best possible price, all from the comfort of your own home ensures you'll be in the best possible position to purchase your next car and get back on the road.