We Buy All Mercedes-Benz In These Conditions:
Collision
Broken-Down
Body Damage
Seized Engine
Salvage/Rebuilt
Bad Transmission
Cars for Parts
Falling Objects
Non-Running
Junk Cars
Repairs For A Mercedes-Benz May Be Costly...
Mercedes are known as luxury vehicles, providing a smooth and comfortable ride for drivers who own them. However, like many luxury cars, they have a tendency of depreciating fast.
Since their resale value plummets so quickly, many Mercedes owners may be left shocked when they discover what their car is worth after a few years of owning it.
Luckily, there are ways to maximize the payment you can get for your old or damaged Mercedes Benz of any class.
You can:
Sell your car to a scrapyard
Sell your Mercedes Benz privately
Trade your car in
Sell your Mercedes online
The best option for you depends on your timeline and goals. Learn more about how to sell your used Mercedes in the sections below.
Click HERE to find out what your totaled or broken Mercedes-Benz is REALLY worth!
We Buy All Mercedes-Benz Models, Including The Following:
YEARS: 2004, 2005, 2006, 2007, 2008, 2009, 2010, 2011, 2012, 2013, 2014, 2015, 2016, 2017, 2018, 2019, 2020, 2021
Here Are Some Broken Mercedes-Benzes That We've Bought
How Much Is My Mercedes-Benz Worth?
Determining the scrap value of a Mercedes-Benz can vary heavily depending various factors that include but aren't limited to:
Vehicle Age

Condition of the Vehicle

Year, Model

Upgrades

And More!
You can get anywhere from $100 for an extremely old model with mechanical problems to $1,000 or more for newer vehicles with minimal problems.
The best way to find out what your Mercedes is worth is to request quotes from multiple businesses in your location.
Where Can I Sell My Wrecked Mercedes-Benz?
Who most commonly buys Mercedes-Benz vehicles after they've suffered some damage are junkyards, dealerships, and private buyers.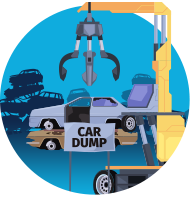 Each of these options are interested in buying a crashed Mercedes-Benz and have their pros and cons depending upon how quickly you're trying to sell your wrecked car, how much money you're trying to make, and how much hassle you're willing to put up with.
Junkyards — When looking for places to sell your Mercedes-Benz, selling a damaged car to junkyards near you is a common option. They will accept vehicles in virtually any condition. They purchase them quickly, but they make their profit by buying low and reselling the usable parts.
Dealerships — Any dealership that accepts cars "as is" will purchase your totaled Mercedes-Benz. However, dealerships usually won't trade junk cars for cash. The money offered is likely credit to be applied to buying another vehicle from them. Additionally, they specialize in roadworthy cars, so the trade-in value of an old or non-running Mercedes will be relatively low.
Private Buyers — Private buyers aren't restricted by pricing or any condition constraints. If your model is popular and in demand, someone will want it. Finding that person, however, can be a massive hassle; vetting serious candidates and haggling being chief amongst the most annoying portions of the process.
Ultimately, figuring out where you can sell your Mercedes-Benz car after it has suffered significant damage hangs upon figuring how much your old Mercedes-Benz is worth. Once you know its value, you'll be able to determine the best place to sell your car.
Can I Junk A Mercedes-Benz Online?
If you want to sell your Mercedes-Benz,the easiest way to get rid of it quickly and for a fair price is to go online.
Junk car buyers will offer quotes in minutes and generally include free towing in their offers. You can complete the entire process of selling your junk Mercedes-Benz from the comfort of your own home.
However, not all online car buyers are made equal. Before selling a vehicle online, you should take some time to read reviews and compare different online car buyers available to you.
These options include but are not limited to:
Craigslist

Facebook Marketplace

Cars.com

Ebay Motors

CarGurus

Carvana

CarMax

Autotraders

Vroom

CarBrain
Read more to learn why selling to CarBrain is the best option for you if you want to get paid top dollar for your Mercedes.
How can I get a quote for my damaged Mercedes-Benz vehicle instantly?
It's simple and it takes less than 90 seconds... click the button below to get started and find out how much your car is worth!
Vehicle Pick-up is FREE Nationwide. No Haggle. No Fees. We are A+ rated business at BBB.
What Can I Do If My Mercedes-Benz Is Old?
CarBrain is the ideal "final home" for vehicles near the end of their road-life. Our top-tier customer service representatives make the entire process as easy as 1-2-3:
Get your free quote! Simply enter some basic information about your car on our website and you'll receive a free and guaranteed quote within 90 seconds.

Towing is complementary, so you'll never have to worry about hidden or additional fees taking away from the profits you take home.

Schedule your pickup within 24-48 hours! If you're happy with your quote, you'll be able to schedule your vehicle retrieval with one of our partners within your area. They're trusted to come to you at a time that works best for you.

Complete your sale! After a quick inspection and transferring of your title, you'll receive the amount you were quoted, no haggling or fuss. Your vehicle is taken off your hands and money is put in them!
Contact CarBrain today and sell your car quickly without leaving the comfort of your own home!
How You Can Quickly Get A Cash Value Offer For Your Broken Mercedes-Benz
To sell your car to CarBrain, all you have to do is:
Click "get offer."
Fill out the form.
Get your quote!
Submit photos of your Mercedes in its current condition and its VIN to get a guaranteed quote fast. If you like our offer, we can help you schedule a pickup at a time that's convenient to you.
The tow truck driver will arrive with a check in hand. All you have to do is hand over the keys and the title. You'll be paid on the spot.
It's that simple. Why wait? Get a quote from CarBrain and start selling your old Mercedes Benz today.
Frequently Asked Questions