We Buy All BMWs In These Conditions:
Collision-Damaged
Broken-Down
Body Damage
Salvage/Rebuilt
Bad Transmission
Rollover Damage
Hail Damage
Falling Objects
Non-Running
Junk Cars
Scrap Cars
Should I Sell My BMW For Cash Or Fix It?
If your BMW is damaged, you may be wondering whether to repair or sell it. The right choice depends on the kind of damage your vehicle has. It is a good idea to get an estimate from a mechanic before making a decision.
If some minor parts need to be replaced, it is probably worthwhile to complete the repairs at your local body shop.
However, if your car is experiencing more serious issues, such as transmission problems, and you need to get more expensive parts replaced, you may be better off selling your car for cash.
Those repairs typically cost thousands of dollars that you may not necessarily get a return on in the value of the vehicle.
In that case, it might be easier to sell your BMW with all-over damage to junkyards near you. However, it can be a pain to contact all the BMW scrap yards in your area. That's why we have an easier solution in mind.
Popular BMW Models We Are Interested In
YEARS: 2004, 2005, 2006, 2007, 2008, 2009, 2010, 2011, 2012, 2013, 2014, 2015, 2016, 2017, 2018, 2019, 2020, 2021
We've Purchased Many Non-Working BMWs. Here Are Just A Few.
Before You Decide To Repair Your BMW
One crucial fact that many vehicle owners forget about before paying for expensive repairs is that the value of your vehicle won't "reset" to pre-accident levels.
The vehicle history will always reveal what happened and permanently diminish your car's value. In many cases, it is no longer worthwhile to try repairing your car.
Check How Much CarBrain Can Pay For Your Totaled BMW
BMW has been making vehicles since the late 1920s, earning a reputation as an enjoyable luxury car brand. However, these pricey vehicles come with equally pricey repair costs.
If your vehicle is in need of repairs or coming to the end of its life, bringing it to a mechanic may be a waste of time and money.
Rather than shelling out cash to repair your car only to bring it back to the mechanic in six months for another repair, consider selling your junk car for cash and replacing it.
If you do it right, you could have the vehicle out of your driveway and cash in your hands in just a few days.
If you want to sell a crashed BMW car fast and get top dollar in return, CarBrain is the right solution for you. Read the sections below to learn why.
Should I Sell My BMW For Parts?
If your BMW is in bad shape, you may consider parting it out. In some cases, you can ultimately make more money parting out a vehicle piece by piece rather than selling the entire unit. However, there are some downsides to this option.
For one thing, parting out your car can be difficult if you don't already know how to dismantle it. For another, it can take months to finish selling every part to your vehicle, depending on what year and model it is.
You'll have to find buyers for every part, which may be difficult depending on what area you're in.
Damaged BMW Buyers Near Me
Who buys BMW cars? Typically, junkyards, dealerships and private buyers are willing to purchase BMWs with problems.
Each of these options are interested in buying a crashed BMW and have their pros and cons depending upon how quickly you're trying to sell your wrecked BMW, how much money you're trying to make, and how much hassle you're willing to put up with.
Junkyards — When looking for places that buy BMWs near you, selling a damaged car to BMW junkyards near you is a common option. They will accept vehicles in virtually any condition. They purchase them quickly, but they make their profit by buying low and reselling the usable parts.
Dealerships — Any dealership that accepts cars "as is" will purchase your totaled BMW. However, dealerships usually won't trade junk cars for cash. The money offered is likely credit to be applied to buying another vehicle from them. Additionally, they specialize in roadworthy cars, so a junk car that can't run is likely to get lowballed.
Private Buyers — Private buyers aren't restricted by pricing or any condition constraints. If your model is popular and in demand, someone will want it. Finding that person, however, can be a massive hassle; vetting serious candidates and haggling being chief amongst the most annoying portions of the process.
Ultimately, figuring out where you can sell your BMW after it has suffered significant damage hangs upon figuring how much your BMW is worth. Once you know its value, you'll be able to determine the best place to sell your BMW.
Is Selling A Damaged BMW Privately A Good Idea?
Another option you may consider is selling your totaled BMW privately to an individual. This is also possible, since you can negotiate a price with a buyer and take care of the vehicle on your own terms.
However, you should keep in mind that private buyers may negotiate aggressively to bring a price down on a damaged vehicle. This is because they know the vehicle will require significant repairs to get back into working condition.
You can try to protect yourself from being undercut by providing estimates from a mechanic to show how much work is actually required and how much that work would cost.
Nevertheless, you might still end up accepting a lower offer than you were initially prepared to accept. Additionally, you and the buyer will have to negotiate who will cover the cost of towing the vehicle if it does not run.
Our expert evaluators can help you get an accurate estimate for your cars value, FAST!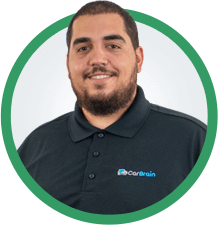 What's The Best Way To Dispose Of A Wrecked BMW With Problems?
Junkyards and scrap yards will typically offer you the vehicle's scrap metal value for your car. If you can find BMW salvage yards near you, you might be able to sell it. However, you have to confirm that a particular yard is operating in your area.
Additionally, you must confirm that there are no additional fees or charges, such as towing fees. In some cases, you may be expected to take your BMW to the wrecking yard.
Selling it online typically allows you to get a good price for your car and easy service. You can get a quote faster and confirm that service is available in your area more easily.
Your options for selling a BMW with problems generally include:
Selling it privately
Selling it for parts
Selling it to a junkyard or scrap yard
Selling it online
The right choice for you depends on how quickly you want to get cash for your vehicle, how much you want to get for it and your technical knowledge. If you are very knowledgeable about cars, parting it out will be your best choice. If not, one of the other options may be better for you.
How Can I Sell A BMW Online?
Selling a broken-down BMW online is relatively straightforward. Typically, all you have to do is upload information and pictures of your vehicle to receive a quote, including where the vehicle is located.
After receiving a quote, you can begin to confirm your vehicle's pickup time and payment methods. However, not all online car buyers are made equal. For example, some might offer a tentative quote, and then change the offer when they see the car in person. It is important to confirm whether the offer is guaranteed or not.
At CarBrain, we always guarantee our offers when you submit photos of your vehicle and a VIN. We also offer quick turnaround times, enabling you to get paid in a matter of days.
Why Should I Sell My Old BMW To CarBrain?
CarBrain has specialized in buying non-working cars for over a decade. We have professionals with experience in determining the fair market value of a damaged vehicle, including damaged BMWs.
We also offer fast and professional customer service. When you get a CarBrain quote, you can speak to a representative who will walk you through the process, explain why your car is priced the way it is and help you schedule a pickup time in under 48 business hours.
When you include photos and a VIN, we guarantee our offers. You won't get bait-and-switched at the last minute. Additionally, we always offer FREE towing and FREE title transfer, so there are no hidden fees or charges.
Finally, CarBrain offers are guaranteed for seven days. We won't force you to make a decision on the spot. You can take some time to think it over and decide if you're ready to sell. Once you decide you want to get paid for your BMW, all you have to do is get back in touch with our buyers to schedule your pickup.
How To Sell My BMW To CarBrain
Selling a damaged BMW to CarBrain is straightforward. All you have to do is click "get an offer" to get started. Fill out the form with your vehicle's information, and include photos and a VIN.
Once you have an instant cash offer, our buyers will get in touch with you to complete the process. We'll help you schedule a FREE pickup time convenient to you.
When the tow truck driver arrives, he or she will hand you a check on the spot. All you have to do is sign over the title and hand the driver the keys. You don't even need to leave your house. It's that simple. Why wait? Get started today.