CarBrain Helps You Sell Your Broken Jeep FAST!
Figuring out what to do with a Jeep wrecked in a collision is a headache we can relate to. After you've been in a wreck, you're likely to bounce between the options of whether you should repair your Jeep or sell it.
If you're looking into how to sell a Jeep fast, find out how much your salvage car is worth with our instant value calculator.
Continue reading to learn the ins-and-outs surrounding your salvage Jeep and what steps you can take to get an accurate estimate for it.
We Buy All Jeeps In These Conditions:
Collision Wrecks
Broken
Mechanical Damage
Body Damage
Salvage/Rebuilt
Cars for Parts
Non-Running
Junk Cars
Hail Damage
Rollover Damage
All Over Damage
Blown Engine
Damaged Catalytic Converters
Expensive Repair
Scrap Cars
We Buy Junk Jeeps In Your Area
If you have a broken-down Jeep on your hands, chances are you may not be interested in shelling out thousands of dollars to repair it. Instead, you want to know how you can sell it quickly and get the most cash for it possible.
Luckily, you have a few options available to you, depending on what condition your car is in. Read the sections below to learn how you can find places that buy broken Jeeps and how you can sell your Jeep online for cash fast.
What Kind Of Damaged Jeeps Does CarBrain Buy?
YEARS: 2004, 2005, 2006, 2007, 2008, 2009, 2010, 2011, 2012, 2013, 2014, 2015, 2016, 2017, 2018, 2019, 2020, 2021
Discover Damaged Jeeps That CarBrain Has Purchased In The Past
Should I Repair Or Sell My Jeep?
Determining whether you should fix your damaged Jeep or sell it altogether hinges upon a few factors.
Your Jeep won't go back to its original value once repaired, so it's likely your best option to get as much out of your Jeep now before sinking additional money into it.
Who Will Buy My Damaged Jeep?
The best place to sell a Jeep depends on what condition your Jeep is in and what you plan on doing next.
For instance, do you already know what vehicle you want to buy to replace it? Do you want to buy a new vehicle at all? Is your vehicle running, or is it a junk car?
If you're looking for junk car buyers, your options include:
Trading it in at a dealership
Selling it to a junkyard or salvage yard
Selling it to a private individual
Selling it to an online company — like CarBrain!
Dealership - When you trade your Jeep into a dealership, you might be able to get some cash to put directly towards a new vehicle. However, whether or not a dealership will accept your car depends on the shape it's in.
Additionally, even if a dealership does accept your car, you will be limited in what vehicles you can choose.
Junkyards/Salvage Yards - You can sell it to Jeep salvage yards near you if it requires significant repairs that are too costly to make. These places are willing to take on older cars or cars in virtually any condition.
However, most junkyards and salvage yards will only pay for the value of the scrap metal contained in your car. You'll be paid at scrap car prices, which means the value of your Jeep won't really be taken into account.
Private Buyers - Private buyers are always an option. However, private buyers are likely to negotiate aggressively on a vehicle in need of repairs.
This is because they know that they will have to cover the cost of repairs themselves to get the vehicle in shape again. For instance, trying to sell a Jeep with a blown engine to a private buyer may be a hard sell, given how valuable and costly to replace the engine is.
Additionally, you will have to negotiate details like who will cover the cost of towing if your vehicle is not currently running, making this an inconvenient option for someone looking for a fast and easy sale.
Online - The fastest and easiest way to get good cash is to sell your Jeep online with a service like CarBrain. Selling it online allows you to get a quick and easy quote, guarantee pickup and compare offers more easily. It saves you time and effort.
How Do I Know the Value Of My Crashed Jeep?
Whether you should sell your car depends on what condition it's in. These vehicles retain their value longer than other vehicles due to their sturdiness and popularity. As a result, the amount you can get for them is likely higher.
However, that is also something you should take into consideration when deciding whether to repair or replace your Jeep.
If your Jeep is experiencing some relatively mild mechanical problems, it may be worthwhile to simply fix the problem with a local mechanic or body shop and continue using the vehicle.
Granted, if you're facing serious engine problems or transmission problems, you might want to think twice. These repairs can easily cost thousands of dollars.
Our expert evaluators can help you get an accurate estimate for your cars value, FAST!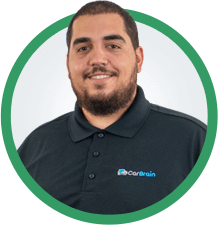 Additionally, if you have severe body damage from a wreck, chances are there's no realistic way to repair the car. If your insurance company has declared that you have a total loss Jeep, you can keep the car and sell it individually instead.
Will You Buy My Jeep With Heavy Damage?
If you want to sell your non-running Jeep to scrap yards near you quickly and efficiently, the best way to sell it is to go online.
Websites for selling Jeeps (like CarBrain) exist to help you find a buyer, schedule a tow truck pickup and get your cash fast. You typically won't have to worry about haggling, and you won't have to spend hours on the phone contacting different junkyards and scrap yards for quotes.
With an online sale, no one has to come by and see your broken down Jeep in person, which can be a hassle to schedule. Additionally, you may be saved from the process of haggling with your potential buyer, forcing you to negotiate down to a price you don't want to accept.
CarBrain Buys Jeeps In All Conditions!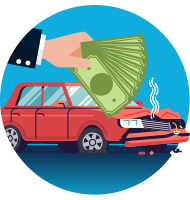 CarBrain specializes in buying less-than-perfect cars and your old or wrecked Jeep is no exception! At CarBrain, we aim to make sure your entire process goes as smooth and easy as possible. It's so easy, we can break it down into three simple steps:
Get your free quote! Input basic information about your car on our website and you'll receive a free and guaranteed quote within 90 seconds.

Towing is on the house! You'll never have to worry about hidden or additional fees taking away from the profits you take home.

Schedule your pickup within 24-48 hours! You'll be able to schedule your vehicle retrieval with one of our partners within your area. They're trusted to come to you at a time that works best for you.

Complete your sale! After a quick inspection and transferring of your title, you'll receive the amount you were quoted, quick and easy. We take your vehicle and replace it with money on the spot!
Contact CarBrain today and get cash for your Jeep without leaving the comfort of your own home! We buy Jeeps, tow for free, and handle all title exchanges for you!